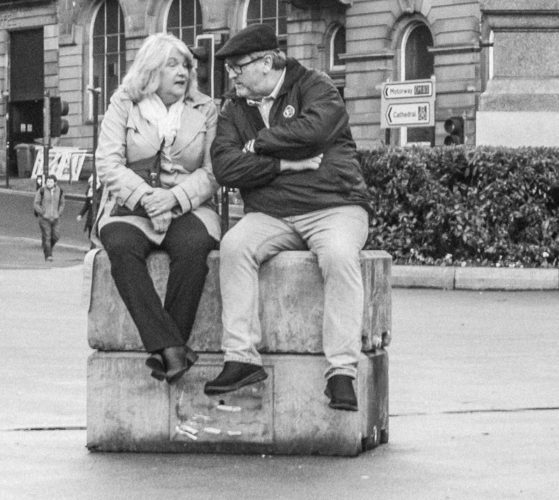 Today began with the alarm at 7.45am and I finally parked the car tonight at about 9.15pm.  Ok, I wasn't driving for all that time, but it felt like it.
Out for a podiatrist appointment at 9am after scraping the thick ice that had appeared overnight from the windscreen. I'd forgotten that some people still have to get up at this and earlier ungodly hour to go to work.
The nice lady podiatrist poked and prodded my feet and told me my feet were scoring 4/5 for health. I tried not to laugh when she told me I should try to improve my flat feet by standing on tiptoes when I'm brushing my teeth in the morning. "Brushing my teeth? What's that?" It only happens twice a year when I'm due to visit the dentist. That's not going to help my poor fallen arches much.
Home for a coffee and then it was Ho Ho tee shirt on and out to Michael's Christmas Party. It was great fun with some Samba (loved the Samba Walk) and a bit of Charleston before we finished off with an almost perfect couple of waltz patterns. Left with a smile on my face. Got today's PoD in George Square in Glasgow on the way to the car. It looked ok on the camera screen, but it was a bit untidy on the computer. However it was a record of the day.
Scamp's sister is in hospital and I trusted the satnav to find Monklands Hospital for me. It did find it, but took me through the busiest parts of Coatbridge at the busiest time of day. I'll use Google next time on my phone. That will lower my blood pressure significantly. With Scamp reassured that June was being well looked after, we drove home (without satnav directions).
Dinner was fresh spinach and ricotta ravioli and it was lovely, then it was back in the Juke and in to town for the second dance class of the day and the second Salsa class of the week. I wasn't particularly looking forward to it, I was fed up with driving. Having said that, it too was great fun with almost all the games we'd played on Monday being played again. This time Jamie G managed to film part of the proceedings from his drone. Now, that's just showing off, or was it one of the reasons he gave himself for buying it? "But it could be useful for filming a Rueda from above, couldn't it??!!"
Oh yes, and I finally managed to get Python to play nice with the Blinkt board that's the LED output from the Raspberry Pi. I even wrote my own little program to reset all the lights to zero. I was well impressed.
Three parcels arrived today. One big parcel and another clinking parcel, both from somewhere near Cambridge and one extremely long parcel from near Chessington! Wonder what's in them?
Tomorrow Scamp meets Nancy for the re-scheduled lunch and I am hoping to make a video, but not with a drone!