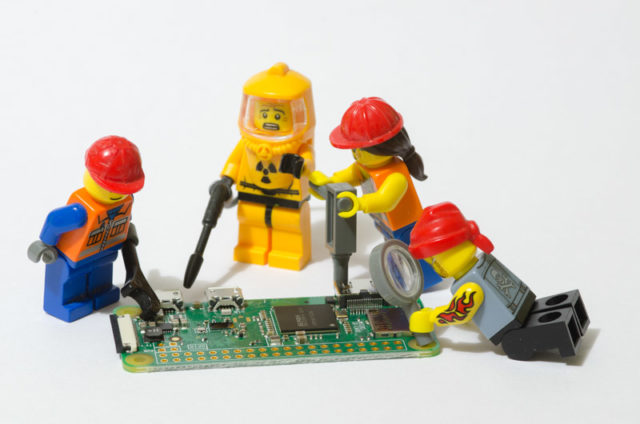 The toy in question was a Raspberry Pi zero W
It arrived by post just around midday on a dull, rainy day. I hoped it would brighten my day as the sun seemed to having a holiday somewhere nice. It was a tiny little thing, as you can see from the PoD which is of the Weemen helping me to build it. Actually it was more that they were there to supervise the soldering of the 40 pins that help the Pi connect to the outside world. I was really pleased with my soldering. I only had to resort to the de-soldering braid twice and didn't manage to burn myself once which must be a world record for me. I usually manage to pick up the soldering iron at least once by the 'business end'. This time, ultra-careful I did not need to resort to Elastoplast or buckets of water. I think all the pins are soldered correctly, I'll give them a test tomorrow once I master the vagaries of the Python language that is used to program the board.
Other than photographing the Weemen and assembling the computer module, it was a dull day. Coffee arrived from Perth right on time too. £3 for the delivery of about 3kg of coffee by DPD rather than about a 100 mile round trip is a bargain in anyone's money. Keeps a driver in a job and saves me two or three hours. Yes, I know it increases my carbon footprint, but its the footprint of a very small shoe, a baby shoe.
That was the excitement for the day. A tiny little computer and a tiny little baby carbon footprint. A toy off the rack and a few bags of coffee. Now I have to learn to program in Python. I've been at it now for an hour and a half and I still can't get the syntax right. I've tried the usual method of swearing at it, restarting the Pi and actually reading the instructions, but nothing seems to work. I'm going to bed now. What use is a toy of the rack if you can't make it turn cartwheels across the living room floor? I'm told a nine year old can program it. Unfortunately I don't have a nine year old child handy to get him or her to explain it to me. I'll leave it until tomorrow. It will be better tomorrow. It will work tomorrow.
Tomorrow I'm going to get my feet looked at and prodded by a nice lady podiatrist. I may even ask her what's going wrong with my left knee. I think knees are just within her jurisdiction. All of that, and dancin' too, hopefully.