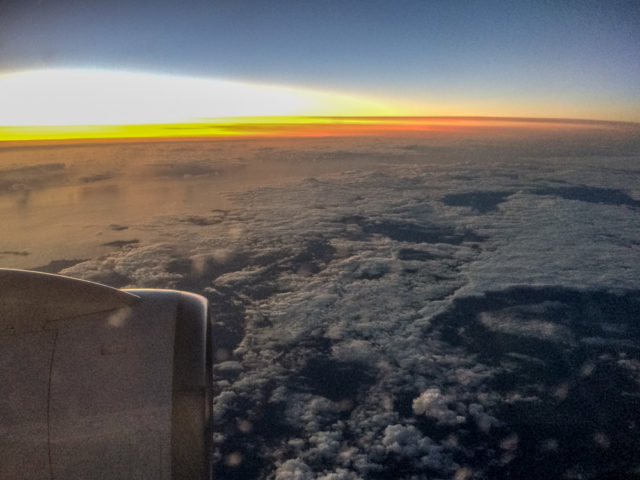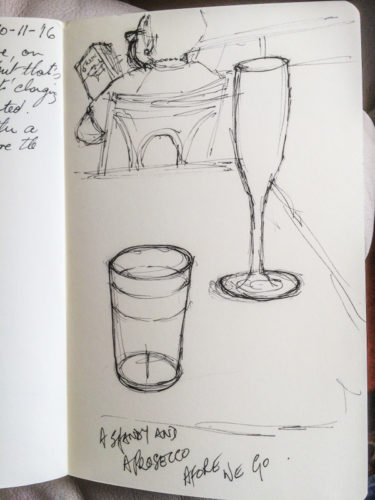 Breakfast and final packing, Scamp couldn't find the padlock for her case. I went out to see if I could buy one at the nearby shops, but got a text from her to say all was well, the padlock was found.  Handed in the keys then a final shandy for me and a prosecco for Scamp to send us on our way.  Even managed to get a sketch done while we were sitting.  This sketching is addictive.
Taxi to the airport and first in the queue!  Straight through to security and then into Duty Free.  From there we had an early lunch of fish and chips washed down with Fanta.  Prosecco to Fanta.  Sublime to the ridiculous.  Sitting in the airport waiting to be called to board and watched an old man who wasn't at all well looking sitting with his wife.  Two girls asked if they could help, but he refused with a grim smile.  Eventually his wife went looking for help and they walked off together later.  I still wonder if he was ok.  It's at times like that I wish I'd kept up my first aid certificate.  Maybe I should.
Flight was slow boarding, but after we were settled, we stayed pretty much to schedule.  As we were making our decent across the Irish Sea from Dublin, the Captain came on the intercom to give us an update on weather in Glasgow with "If you don't wish to know the temperature, look away now … It's two degrees!"  Nicely done, I thought.
That was about it, just one final thought, and it's about temperature too.  One night in the restaurant, I heard this large English woman asking one of the waiters where the microwave was, because "This soup is Cold!"  I couldn't believe it.  Maybe she'd never watched Red Dwarf.