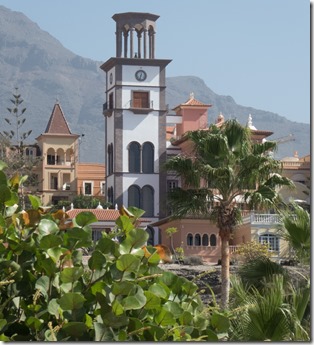 I had omelette for breakfast.  Only, when I cut into it, I realised that I had another diner's food. I should have had ham and cheese and I had tuna and cheese.  Not a marriage made in food heaven IMO.  To prevent a recurrence of yesterday's alleged theft of sunbeds, we went straight to the top floor after breakfast.
Afterwards,we went for a walk along to the posh hotels, but couldn't settle on anywhere for lunch.  Walked back to what looked a likely Italian we'd earmarked during the week.
Bloke who took our order only seemed to do grunts, but he did type something into what looked like a mobile phone.  Starter, which was flat bread with rosemary, took 20 mins.  Maybe they were waiting for the rosemary to grow.  Scamp's main was fine, but mine was totally wrong.  It tasted fine, but just in case there were shellfish somewhere in it, I sent it back and got a new one, the one I'd ordered this time.  Maybe the bloke wasn't typing an order into his wee phone thing.  Maybe he was just phoning Mama back in the old country.  Anyway, I wasn't pleased – we paid and left after scamp had finished.
Further down the road we dropped into a bar and had a mojito each to make us feel better.  It was lovely.  The best so far this year.  Sat and watched the world go by while the sun beat down.
By the time we got back I was exhausted, so I had a snooze for about an hour while Scamp went up on the roof again.  Later, I joined her then came down to the room to get ready for dinner.  We're now sitting on the balcony while I write up today's blog.  It's just after 7pm and I'm sitting in a tee shirt and swimming trunks.  Aren't winter holidays wonderful!
Today's PoD was taken in the land of the posh hotels
Last full day tomorrow.  Going to make the most of it.  Mojitos will probably figure in it somewhere.
STOP PRESS  ::: STOP PRESS
Neither Scamp nor I fancied watching a Beatles tribute band tonight and as the singer who should have been on at the hotel was sitting glued to her phone in the downstairs bar there was little prospect of anything there.  We went for a walk down to the beach esplanade.
We found a bar with two seats together and after we'd ordered, noticed a star in our midst.  Yes, another one!  It was Leah MacRae who plays Ellie McLean in River City.  She was sitting there with her Gran.  Even better, she sounded just the same as she did in the soap.  Thankfully she never asked Scamp for her autograph or to have her photo taken with her, otherwise it might have caused a riot!!  After all, Scamp and Gloria Hunniford (or Gaynor if you're german) are BFF now.
STOP PRESS  ::: STOP PRESS