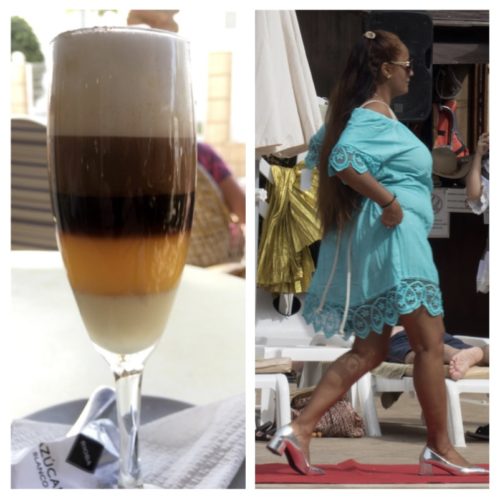 The last day here and it was a cloudy, dull one! Honest, it was just preparing us for what is to come.
We didn't waste it. We spent some time on the roof reading and snoozing. I also took the opportunity to take some moody shots of the mountains covered in cloud. As if that was unusual. Well it is here, but not in Scotland. Then it was time for lunch.
After lunch we walked down to the town and on the way we calle in to The Pantry and I had one final baraquito. This one served in a small champagne glass as you can see. Try getting that kind of service in Costa.
When we came back it was time to face the dreaded packing. Actually it was fairly easy this time because the case was only about two thirds full because I didn't have a kilt roll, a jacket, sporran or heavy brogues. It's amazing the weight and bulk that accrues from them. By the time we got them fairly well organized we just had enough time to go and sit on the roof for an hour before getting ready for dinner. We were both agreed that the roof space with its astro-turf, pools and of course the bar was the highlight of the hotel. Also, for safety reasons it's off limits to children, so it's quiet. Well, it's usually quiet, but four fat permatanned morons who were screaming, shouting and just being arseholes at the far side were making more noise than any children down in the kids pool below. I smiled to think the kind of noise they would make if they fell the five stories to the concrete below. But then again, someone would have to clean up that mess and if it got into the pool it would have clogged the filters and there would have to be an investigation and we'd all have to give statements. Still, just think of the sound a watermelon makes dropped on concrete …
Our last two G&Ts were wasted because they'd run out of tonic and a G&T without T is just a G & . It's not the same. Anyway, it was time to go get ready for a last dinner. Then a last walk down town for a Long Island for Scamp and a Mojito for me. It was actually getting cool when we made our way back to the hotel, up the 'killer hill'. Our name for a long slow climb.
And so to bed for one last time in the land of the heat and reversing bin motors at 3am almost every morning. Looking forward to sleeping in our own beds tomorrow.