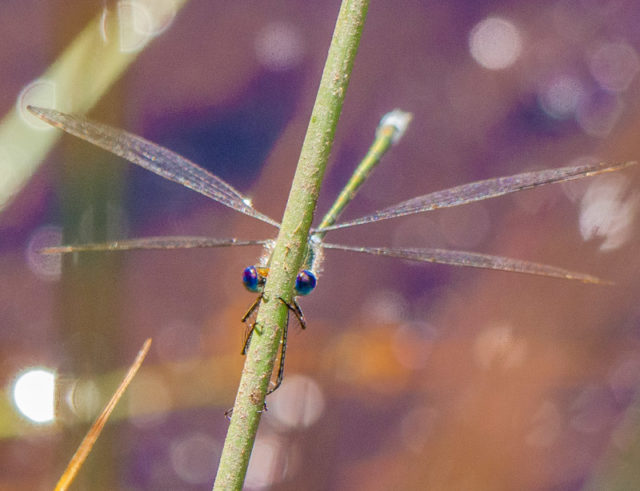 Well, the weather fairies were right again. Sorry to you folks down south, but we had another beautiful day. Not quite the wall to wall sunshine of yesterday, but not far off it.
We were headed for Devilla forest again today. We'd last been there in May and enjoyed the walk, but didn't see any of the red squirrels that are supposed to inhabit the woodland. Didn't see any today either, but we did see loads of dragonflies around the pond at the end of the walk. Mainly Black Darters, but there were also a couple of Emeralds that seemed to fly non-stop all the time we were there. Sometimes they'd hover almost motionless while they checked out what was happening around them. Unfortunately the Oly or its lens was unable to focus on them properly, despite the fact they were static for five or six seconds at a time. Also despite the fact that I was swearing at it the whole time. I did get some satisfactory shots of the male and female Black Darters and a nice one of an Emerald Damselfly playing hide and seek behind a reed and that became PoD.
After I'd had my fill of 'beasties', we drove to the Walled Garden for lunch. It was busy, but not so busy that we had to queue for a table which was better than I'd expected. After lunch we drove home.
Salsa tonight was the start of a beginners class and it was a gigantic class. Enjoyed helping, but in the 7.30pm class, I couldn't get any of the moves right. Moves I knew well too. I think my brain must have been stuck on beginners level.
Hoping for just one more day of sunshine before it all collapses at the weekend.