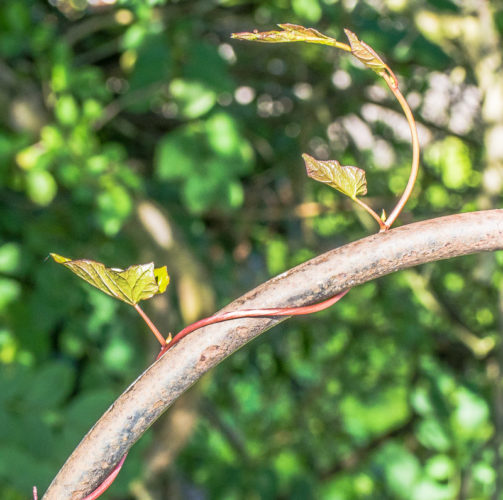 After two days of almost continuous rain, today's blue skies and sunshine were a great relief. Scamp was going out for lunch with a friend and I was painting in the morning, but determined to get the bike out and turn the wheels a few times.
I set out for Auchinstarry to park and then cycle along the railway to Twechar and from there, take the road to Kirkintilloch, then cycle back along the canal to Auchinstarry. A nice easy run of a little more than 10 miles.
Lots of folk were out today, and not just the usual dog walkers either. What looked like a Summer School group were learning about rock climbing at Auchinstarry. Halfway along the railway path two women were having a picnic with their weans, sitting on an old iron bridge over the Garrell Burn. After that, it was just road traffic all the way to Kirkintilloch. Walked up the steep hill to reach the canal (That's where today's PoD came from) and then took the towpath from there to Twechar. Passed lots of cyclists on the way. Some gave a nod, some pretended I wasn't there (Bike Snobs), some shouted a cheery 'Hello' or 'Hi' or the West of Scotland 'Aye' as we passed.
Changed my mind at Twechar and headed back along the railway again. The main reason is that the canal tow path gets really busy with cyclists and fishermen in the summer and the path narrows fairly frequently making crossing and overtaking difficult. I stopped to take some 'beastie' photos at Dumbreck Marshes and met a bloke who was extolling the joys of cycling. He realised he was preaching to the converted, but we agreed it was a great way to get some enjoyable exercise. He was on his way back from the Falkirk Wheel and was sitting having his lunch with his iPhone playing some music through a Bluetooth speaker in his rucksack. We wished each other an enjoyable run home and I was on the last leg of my run. Didn't pass anyone else on the way back and then watched some blokes doing a bit of dangerous looking rock climbing in Auchinstarry Quarry where there is a sheer drop into very deep water. Rather them than me.
Back home, it was paella for dinner and I had volunteered for cooking duty. Turned out not to bad.
Tomorrow is to be more of the same. Hopefully they get it right again.