On this last day of July, we had planned to go to Glasgow on the bus. Since the X3, the only bus that runs through our estate (you don't call them schemes any more – that has totally the wrong connotations) takes about three days to drag its sorry wheels into town, we decided instead to get one of the other X buses, any one in fact. This meant we had to get the bus from the Town Centre also known as Castle Greyskull. This is where it gets complicated and all the timing starts. Scamp's car needed petrol, so I opted to run her to work and get petrol on the way back. Then drive to the gym for my Gym 'n' Swim in my own car. Get back, hopefully have a cup of tea, then get the bus up the toonie, meet Scamp and travel in to Glasgow. For once, given our poor history of making these plans stick, it worked and we raced into town in about 20 minutes rather than the three days on the X3.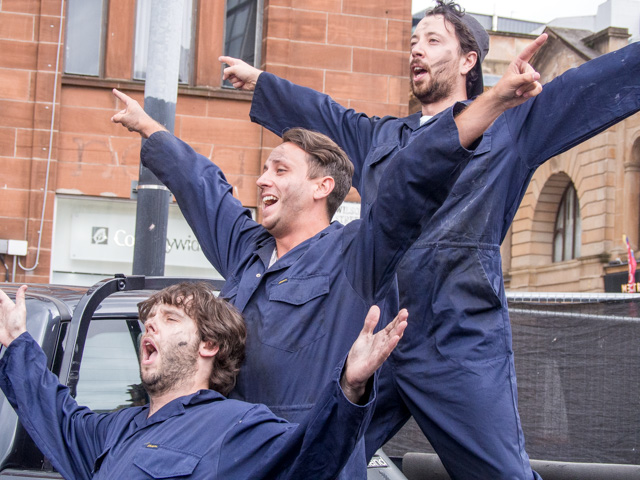 In town, we wandered around the almost deserted Merchant City Festival site, waiting for the Car Men comic opera singers. This 'festival' is not a patch on what was there last year. Fewer stalls and almost no attractions. Last year there were street performers mingling with the punters, this year it's just minging. Scamp thinks it's because last year was Commonwealth Games year in Glasgow and there was a bigger push and also more cash flung at it. She could be right. There is also the added factor of the winter weather this summer. That probably puts a lot of folk off. The Car Men were quite funny, although their set went on for a while. Scamp seemed to enjoy it which was surprising as it was comedy and she doesn't usually do comedy.
Lunch in Charcoals Cafe was not up to their usual high standard. Chicken Bhuna lacked salt and taste. The sauce seemed to comprise entirely of liquidized carrots without peppers or onions. No wonder then that we were the only customers. Must do better. Later we had coffee and shared a cake in Patisserie Valerie and that was up to their usual high standard.