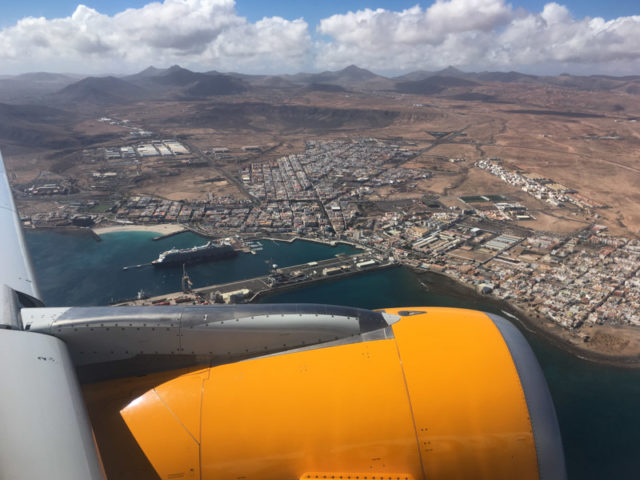 To take our minds off the inevitable, we went for a walk to the fort across from the hotel.
We don't think it's a real fort. Maybe there was a fort there some time ago, but it looks like this was built for the tourists. I'd seen people on top of it, but couldn't find a way in. Then we walked round it and there was the stairway on the outside at the back. No handrail, just steps, so maybe it was a real fort after all. Anyway, it was a shame not to climb it, so I did. Not a great view from the top because it's not such a big fort, but at least I'd done it.
By the time we got back to the hotel it was time to go and get a taxi to the airport. Taxi came quickly and we were right at the front of the queue waiting for the check-in. Through check-in, and through security with ease, that's when the disaster struck. While we were in duty free, I realised I didn't have my boarding card. Now I had to have had it to get through security, so somewhere between there and the duty free, I'd dropped it. Checked the carry-on bag three or four times, then Scamp checked it. Went down the stairs to security and told my sorry tale to one of the security guards who then took me to a senior security man. He must have heard this story hundreds of times in hundreds of languages. He immediately went to check the conveyer belts and there on the floor beneath one was my boarding card. Absolutely brilliant! I could have hugged him, but since he had an automatic pistol and a baton like a baseball bat on his belt, I just thanked him and shook his hand and babbled my thanks. We would go home after all!
When I got back to Scamp, she took the boarding card from me and told me I was too stupid to look after it. She's probably right. She went off for a walk. I got my sketch book out and did a bit of de-stressing sketching. Not the best of sketches, but it kept my mind off what might have been.
It wasn't too long a wait for the call to gate, but then a longer wait to actually be released on to the plane. Comfortable flight, watching Bugs Bunny cartoons. We'd ordered an in-flight meal and I chose Chicken Curry. Luckily, before I opened it, the word Mussels caught my eye. It appears the sauce for the CHICKEN curry is made with shellfish, especially Mussels! I explained that I take a severe allergic reaction to mussels and got it changed, but nobody had heard of mussels being used in a chicken curry sauce.
To make me feel better, Scamp bought me a new watch I'd seen two or three years ago on the Thomas Cook flight. It's a 'good' watch, a Citizen Eco Drive. Nice clear analog face. A 'toy of the rack' to take my mind off two near misses 😉
Arrived in Glasgow to single digit temperatures and torrential rain, but no snow, thankfully, although there were piles of the dirty white stuff everywhere where it had been bulldozed off the roads.
Today's PoD is from the plane just passing over Puerto del Rosario in Fuerteventura.
Tomorrow? Tomorrow is for returning to normal.