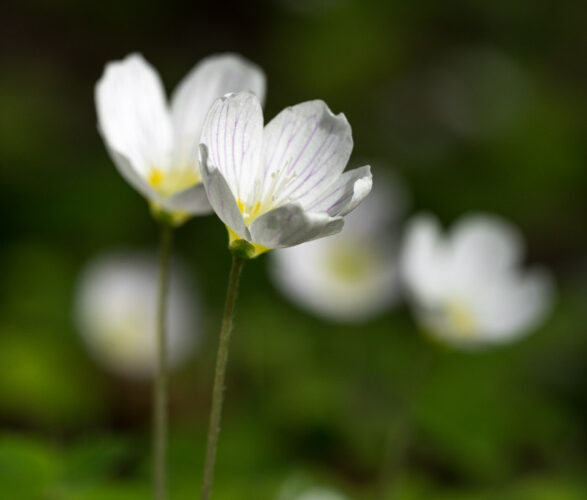 Today we were going to meet two of our oldest friends for lunch.
We were off to Clydeside to meet Crawford and Nancy for lunch at Gouldings which is a plant nursery and restaurant (or maybe the other way round now). It's in Rosebank and I'd hoped to get some photos of the nearby Mauldslie Bridge and the gatehouse on the way home, but it looks like they are restoring the bridge and it's going to be some time before we'll be able to go there. However the lunch was what we came for and simply to catch up again. Now that restrictions are being lifted and we can have a meal inside, life feels so much more relaxed. Even conducting a conversation face to face rather than through a computer screen is such a novelty. It even feels strange to say that, but it's true. The novelty of being in the same room as someone you're talking to. Who would have thought that five years ago.
I had steak pie and Scamp had lemon sole goujons. Mine with potatoes and Scamp's with chips. Steak pie wasn't the best I've ever tasted, but Scamp's fish seemed to be really good. I have never liked lemon sole, but it's years since I had it, so maybe I should have been brave and tried it. Tastes change with time.
We sat for ages, just talking and catching up. Then we wandered round the shop for half an hour or so. Scamp got metal hoop supports for her alliums a Begonia and a tray of Bizzie Lizzies . I got a pot of leeks. The begonia is now planted, the hoops are in place and doing the job they were intended for, but the bizzie lizzies didn't fit into the pot she was hoping to put them in. I'm hoping to pot my leeks up or plant them out by the weekend.
Because I didn't get any photos at Rosebank, I went out for a walk when we got back while Scamp was gardening. I was lucky enough to see the mating ritual of two Wolf spiders. Such a strange stylised posturing. Most of the shots I took were useless, but a few made an interesting trio on Flickr. I was using the Sigma 105mm macro and my next target for it was the much prettier Wood Sorrel flowers I'd seen yesterday. The macro lens made a much better job of the flowers than it did of the spiders. PoD went to the flowers.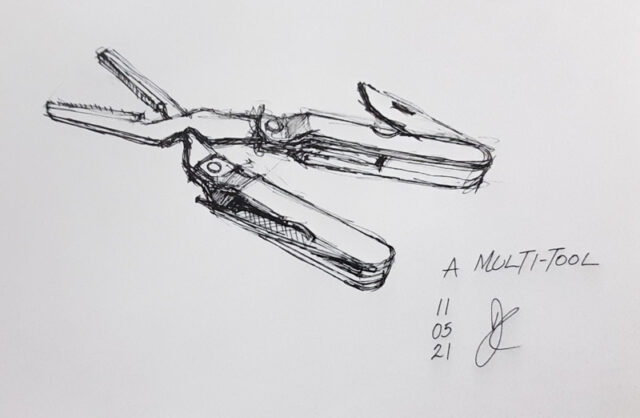 Topic of the day was A Tool. The tool I chose was a Multi-Tool I got for my Christmas a few years ago. It's a really handy thing to have in your pocket, with pliers, knife blade, file etc. About ten tools in total, probably including something for taking the stones out of horses' hooves too … if I can find it! An amazing piece of engineering and worth a space in anyone's pocket, bag or handbag. Just a sketch today, an ink sketch for speed and also so I could draw it while we were watching Sewing Bee. I don't like painting in the warm lights of the living room. It never looks right when you see it in proper daylight. Colours are all wrong.
Tomorrow I think we're going to The Fort. I want a wander round Waterstones. Another tick in a box to say we are returning to normality.