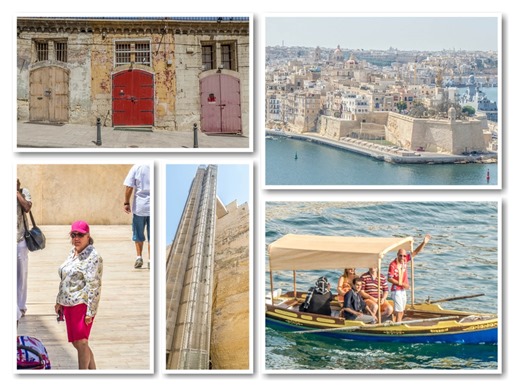 Got off the ship and into the heat.  31ºc predicted today.
We'd intended getting the Red Bus to tour the city, but got so pissed off with the arrogance and persistence of the ticket touts that we gave up and went up in the gigantic elevator instead.  It took us up to the Upper Garden and the Saluting Battery where the 12 o' clock guns get fired every day.  The garden was quite cool and shaded so we hung around there for a while taking photos and watching a girl bore a woman almost to tears with her religious spiel.  The girl was quoting, not from her Bible, but from her iPhone.  She was american, so that explains everything (we have met one decent American this trip, only one.  The rest were just americans.)  After tiring of this display, we headed into the city.
Instead of going back down the elevator, we walked into Valetta.  We stopped in a square to try out their lovely bent wood seats and it was there we saw another Little Train.  I knew then why we hadn't got the Red Bus tour.  This was the way to go, on the Little Train.  Wandered up what looked like the main street, a bit like Sauchiehall Street with sunshine, if you can imagine that.  We reached the top and entered what looked like a building site, turned and walked back down and it was then we found the Little Train stop.  Off we went on the bumpiest ride ever, round the city with a commentary running all the time.
When we got back we went for lunch at a cafe on the street.  I had a Warm Wrap filled with bacon, chicken and salad.  It was really delicious.  Scamp had a Chicken Skillet which was like an open Panini.  I had a beer and she had an Aperol Spritz which was Aperol, soda water and prosecco.  It seems to be the Maltese drink, at least for this year.
After being fed and watered, we proceeded to get lost trying to find our way back to the ship.  However, by following our noses, we found the Lower Gardens with its Greek temple and views across to the quite elegant war memorial.  We also passed the colourful garage doors on a steep sloping road down to Victoria Gate.  Then we knew where we were and walked on past the covered area where the horses and carriages had waited to take the unwary on expensive trips round the town.  The had mostly all gone home by now, the horses getting a rest in their horse boxes while the carriages were loaded on to the back of a truck.  I felt sorry for the horses.  There are a lot of hills in Valetta and it looked like hard work for them.
We'd bought a bottle of Gin the day before and today we'd managed to smuggle a bottle of tonic through the ship's scanner, so we had a G&T while we watched the ship prepare to sail away.  We kept being 'buzzed' by little boats that looked like gondolas, but on closer inspection looked a bit more like Greek boats.
Today's sketch was done on deck looking out at the skyline of Valletta.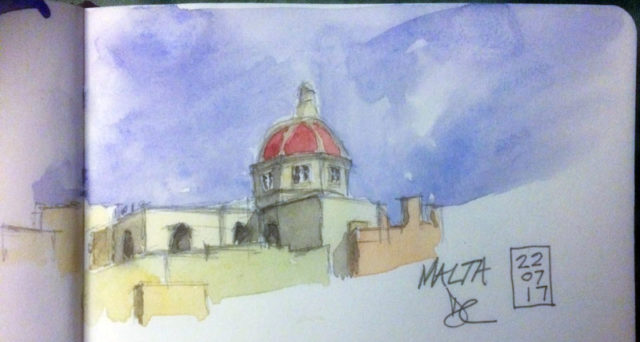 A wee man stopped and complemented me on my painting.  That was nice.  Most folk just sidle up and steal a sly glance then walk on.  It was good to be recognised for my efforts however amateurish they are.
Tomorrow we go to Sicily.