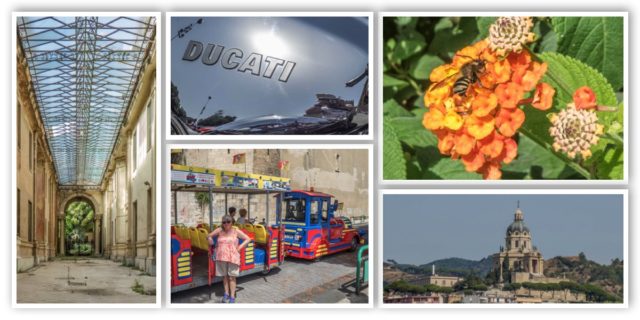 Today we docked in Messina in Sicily. It was shut. Well, that was to be expected because most places in Italy are closed on Sunday with only churches and a few cafes open for business.
Not at all put out by this, we went for a walk round the town. We were disappointed because we had passed Messina before on a previous cruise. The whole town was a bit rundown. I paused to take a photograph of a little arcade that looked as if it had been well looked after but had fallen into disrepair. There was scaffolding holding up the roof, but if you ignored that, or cropped it out it took on an air of lost elegance.
The main reason for stopping in Messina, apart from Thomson's desire to sell you excursions, was to allow us to visit the cathedral with its animated clock that displayed scenes from the bible at 12 noon. We got there too early and and, as there was a Little Train just waiting we jumped on. The girl selling the tickets assured us that the trip that took 45 minutes for the drive round the town would get us back in time to see the clock perform its display, and she was right. The trip was quite informative with a running commentary and tinny music playing. It did, however give us a chance to see the parts of the town we wouldn't otherwise have seen.
We got back in plenty time to get a good place to see the clock. In fact there was time for me to go round and photograph the bikes that were gathered round the square. It was a Ducati owners convention and there was a lot of expensive and customised merchandise on display. I'll have more on Flickr soon, I hope.
With the minutes ticking away, we got ourselves into position and the display began with some figures marching round at the bottom of the tower. Then the display proper started with the lion at the top of the tower roaring. Then the cockerel below the lion crowed three times. After that, it was a bit of a jumble, but the animations were worth seeing, even if I couldn't understand what was happening. I tried to film it, but in doing so, didn't get the big picture, if you know what I mean. I was too busy trying to record what was happening, so probably missed out on some of the fine detail. Anyway, we have a record of it, with a car alarm giving a 21st century addition to the music.
The other thing that impressed me in Messina was the 'Lookie-Lookie' men's ingenuity in building display boards showing their watches, jewellery and fridge magnets, mounted on old pram and buggy frames. No doubt this makes it better for a quick getaway should the polis chase them away.
We had coffee in a wee streetside cafe where the bloke that owned it told us he had good coffee and very good WiFi. He was right about both.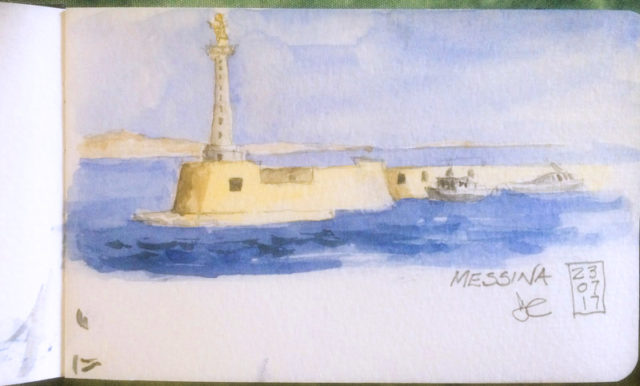 Today's sketch was done on deck again looking towards the statue protecting the harbour.  First time using the Moleskine  watercolour paper.  Not sure if I like it or not.  I maybe prefer the sketchbook surface for light washes.  However, it's nice to have a white paper rather than the slightly yellow tint.  Thanks for the paintbox Hazy, the brush is magic and the colours are so useful.
Tonight the cleaners made a beautiful peacock out of towels. Pics when I get a chance.
Tomorrow Taranto.