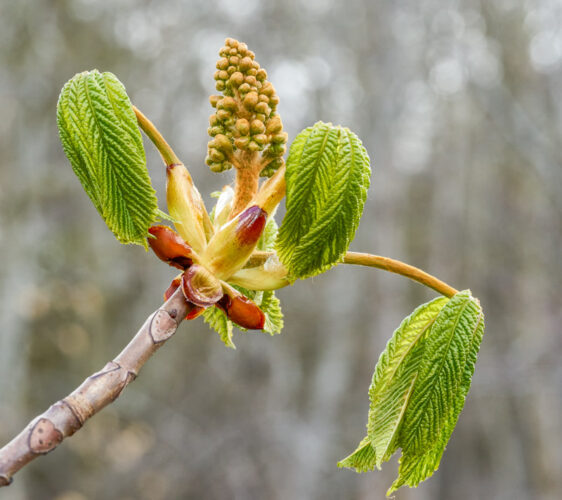 Where has spring gone? It seems like we're back in the gloomy days of winter.
I've always thought trees had a hidden intelligence. They don't produce leaves until the last frost is over because the frost damages the delicate leaves. Biologists now know that trees can communicate through their roots. When I see trees starting to put out leaves, I know that the ground and the air are warming up, even if I don't feel it. Something seems to have gone wrong this year. The trees are spreading their leaves, but the temperature last night was around -4º along the Central Belt of Scotland and much colder than that up in the north. Have the trees just held off and held off until they simply had to get the leaves out to convert the minerals from their roots into the sugars and starches they need to grow, despite the temperature? Perhaps that's so. Perhaps they know that the temperature is on the rise and will continue to rise into summer. Let's hope so, for our sake as well as theirs.
We kept looking out the window today and saying "It looks nice, but open the door and you'll feel how cold it is." It was cold and I was glad I'd put a plant fleece on the rosemary bush in the garden. Poor rosemary is a Mediterranean plant not used to the rough winter weather in Scotland. Like the trees, it had just begun to produce new leaves when last week's frost burned them. Hopefully the fleece will keep it safe until this spell of cold weather abates. We didn't move much until after lunch today, and even then, Scamp found jobs to do in the house rather than come out for a walk with me. I got dressed for the cold and went for a walk in St Mo's. My target was that big horse chestnut tree to grab some shots of the buds bursting into leaves. I got better than leaves, some of the buds contained the flowers, the candelabra of flowers that mark a horse chestnut. One of them made PoD.
Back home Scamp was battering a couple of chicken breasts to make Chicken Milanese. Flattened chicken breast dipped in egg and then breadcrumbs and fried until golden and crispy. Served with potatoes and a salad. Perfect Sunday dinner. She'd also made soup as a starter. Such a clever girl, Scamp.
Dancing tonight was an extension to the Waltz which kind of messed with both our heads until Scamp got it sorted out and taught me! Then the last part of the Tango which also caused us a bit of bother, but after the teachers had gone over it a few times it became clearer.
JIC had given me a birthday prezzy of six months worth of Audible books. I wasn't sure about the practicality of listening to books rather than reading them, but after listening to The Sandman by Neil Gaiman for an hour, I'm sold. Not just one person reading the story, more a whole play with different people playing the characters. I understand the reason people listen to audio books now.
Spoke to JIC after the dance and heard about he and Sim's first 10k run today. Watches and horses played a part in the discussion and also houses.
I am still trying to work out how these three post-processing apps can best be used and which of the two full price ones is best. Just now I'm still banking on Lightroom to win the day, but that is by no means certain.
Tomorrow we have a Tesco delivery scheduled for the afternoon, so any walking activity will have to be in the morning.