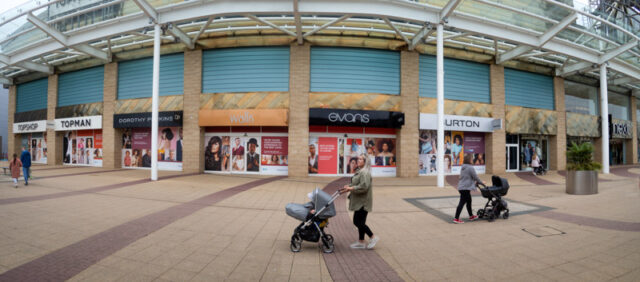 Today Scamp wanted to visit The Fort in Glasgow. I went along to have a browse in Waterstones.
I also wanted to have a look for a new pair of trainers. My old, much maligned Merrills are beginning to fall apart. That seems a common occurrence for me and Merrills. The boots are heading the same way, in fact they are leading the race to the tip. I didn't see anything that inspired me to pull out my wallet and commit some of my hard earned cash to JD Sport or any other footwear purveyors. Not a total surprise to Scamp or I.
I did have a browse around Waterstones and noted a few book titles that I might add to my reading list. However, I'll probably wait a month or so until the prices come down to something more like reality. The price of books these days!!
Met us with Scamp again and went food shopping in M&S. The till was run by someone who looked disdainfully at all these shoppers waiting for her to scan their miserable food items. Eventually, when the time came to pay she attempted a smile, but I think she needs more time in front of the mirror, practising it.
When I was wandering around this fortress earlier I noticed that almost an entire row of premises were closed and boarded up. Or, as the sign said, just ready to become "New stores you're sure to adore". It's the effect of the pandemic on shops. Topshop, TopMan, Dorothy Perkins, Wallis, Evans and Burton all closed for good. Only one left in this block.
Who's NEXT?
This retail disaster became my PoD. After a bit of manipulation in Photoshop, the three frame panorama looked pretty much how I'd seen it.
Back home and after lunch I started to cut down a rogue tree that has appeared between us and our next door neighbour. I asked her last week if she was really attached to it and she said no, so today I took the loppers and with help from Scamp we got about half of it cut down, chopped up and dumped in the Garden Waste bin. Thankfully it should get uplifted tomorrow, because it's nearly full now. Scamp went off to visit her sister and while she was away I potted up a sickly looking chilli plant and half a dozen aquilegia seedlings. I had just finished and left her a note to say I was off to St Mo's when the lady herself returned. There was nothing of note in St Mo's. I'd seen a Fire Bug yesterday and was hoping to be able to grab a shot of it, but it was nowhere to be seen. Maybe tomorrow.
For dinner tonight Scamp made Pulled Chicken and Chipotle Black Beans. The last time she made it, there was very little chilli heat. There was tonight! Hope the remainder doesn't get hotter for lunch tomorrow.
A quick dance practise tonight and I think we may have ironed out one of the sticky bits in the Slow Foxtrot. It's all to do with a little twist before the second Whisk. That probably means nothing to you, although JIC may know what I'm talking about. It's really just a little reminder to us that might explain how we've solved the problem.
No real plans for tomorrow. We had some rain tonight and we're expecting more tomorrow. The gardens need it.