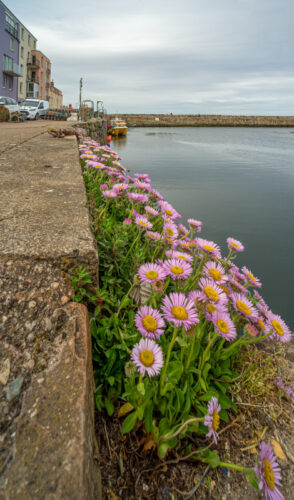 St Andrews to be more precise, where we were hoping that yesterdays keys (Remember them?) would open a door to a new experience.
After a tedious drive through a thousand little villages, each with their own 30mph signs, behind one of the slowest Sainsbury's artics in the western world, we found a motorway. We were only on it for about 10 miles, if that, but that was enough to leave the Sainsbury's leviathan in our dust. Then it was back to the grind of another thousand even smaller villages and roadworks before the sat nav took us away at 90º to our expected trajectory, only to bring us back almost to that same road we'd left. Later I worked out that it was indeed a smart little piece of technology that had avoided making us drive through the tortuous streets and alleys of St Andrews itself and dropped us at the front door of the caravan park. Sometimes you just have to follow the sat nav blindly and hope it know where it's going. Other times it helps to swear at it for a while. Today I did the latter, but agreed that the former would have been better.
We found the caravan and after a bit of a panic, worked out how to open the gate that led to the fenced off decking area and from there to the door. We were just discussing caravans this morning, before we left home and agreed that the last time we'd been to a caravan was probably back in the summer of 1984 when Scamp had organised a holiday in a caravan at Saltcoats. I'd just graduated as a teacher from Jordanhill and we all needed a holiday. I can't remember much about the caravan, but I do recall it being a bit rudimentary. That's not a criticism you could honestly level at this caravan. This is really quite luxurious. We're not buying it, just borrowing it for a few day from one of Scamp's friends.
The caravan site is perched on a hill above one of the beaches and right next to one of the lesser golf courses. Oh, how Charlie would have loved it! After we had settled down, found everything and made the bed, we walked in to town. Scamp had been here last summer and knew how to get into town. I just remembered driving here many years ago and trying to find a parking place and then, later, trying to remember where that parking place was! It's so much easier on foot when you know where you've left the car. After wandering round the streets for a while we eventually went to a BrewDog bar for a late lunch. Scamp had a rather spicy Cajun chicken burger and I had a beef burger with bacon and cheese. Both were delicious and washed down with a Schooner of Elvis Juice each. The bar had been almost empty when we arrived, but by the time we left, two different Hen Parties had arrived and the quiet bar became a noisy, good natured rabble.
We walked back past the harbour and along the edge of the beach. We sat watching folk learning to paddle kayaks in the sea. Further along we found a group of ladies and one man going wild swimming in the sea. Back at the caravan we sat for a while in the sun on the decking a gin and tonic … or two!
PoD was a wee line of flowers on the wall of St Andrews harbour.
Yes, it was very kind of Annette lending us this caravan for a few days. Tomorrow we may go exploring.