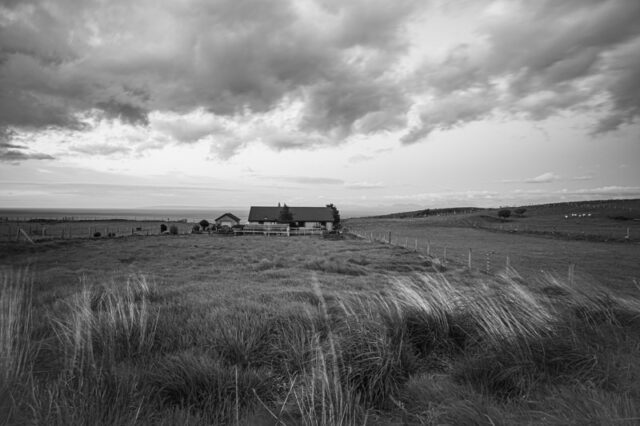 Today we set off to visit the big city – Portree.
As usual on our first full day on the island, we set off on an anticlockwise tour of the island. The first half is the most scenic, hugging the east and north coast of the island on mostly single track roads. We met a few 'Zoomers' as usual. The ones who want to travel at 20mph to get a good view of the scenery, completely ignoring the signs that suggest that you use the passing places to allow faster travellers to pass you. They are just lazy or are so entranced by the views that they forget that other people behind them may need to catch a ferry, or be in a certain place by a certain time. Worse, though are the ones who own the road. They too ignore the passing places and just drive straight towards you and try to hustle you off 'their' road. They are the dangerous ones. We met both kinds today. We also met a herd of cattle, not 'Highland' cattle, just ordinary beasts with their calves running around their heels. Some tiny wee calves too. "Dog sized" was Scamp's description and it was very true, they must have been fairly recently born.
We did the full circuit of the island and stopped at Jan's Vans for lunch. It was extra busy today with many people walking round this hardware emporium holding buzzers that would call them when their table was ready. We didn't have too long to wait until ours buzzed and we got seated at table 10. It was a 20 minute waiting time for food, but that didn't bother us because we weren't going anywhere in a hurry. I ordered "The Works" which is the middle sized All Day Breakfast. I've never been quite hungry enough for The Full Works. Maybe some day. Scamp, of course had Macaroni 'n' Cheese with chips. We did have to wait about the full 20mins, but it was worth it. We followed it with coffee for me and peppermint tea for Scamp with two of the worst pineapple cakes I've ever had. Extra thick pastry base and a tiny teaspoon of pineapple and an equal amount of cream. Not good enough, Jan's Vans!
Three German blokes asked a waitress for the wifi password while I was in the queue for the coffee. The girl rattled off the "TheRedBrickCafe" and was about to turn away when one asked her "Could we have that in English now?" Luckily she laughed and wrote it down for them. We forget just how quickly we speak in Scotland. There were three American ladies in front of me in the same queue, all asking questions: How hot is the chilli? Is the salad vegetarian or vegan? What kind of coffee do you use? Then a man sidled up and I thought he was going to jump the queue, but in a mid-western drawl he said "I hope you don't mind, I'm with them." pointing to the ladies. I said Ok, I'd trust him … this time. He half smiled and said "I have to authenticate", and showed me his credit card. He was paying!
After we left with a couple of new cups and two microwave safe bowl for breakfast, we went to the Co-op and then home by the usual east side road. Stopping at Staffin Slip to check out the new hardcore that's been added to the slip to provide a base for a new terminal there. Took a few photos there, but there are so many mobile homes parked there now, it's difficult to get a clear landscape view. Driving back to the house, we caught a glimpse of the marquee that's been erected for Saturday.
June and Ian arrived tonight after having had dinner with Jackie and Murdo. Scamp and Jackie had a long discussion about dresses and fascinators an combination fascinators and hats. Strange concoction!
Later Mairi who owns the house dropped in with a cake and some fresh eggs. Again we sat and talked. When she left, I took the two Sonys out and got today's PoD.
Not sure what's happening tomorrow. No firm plans made.