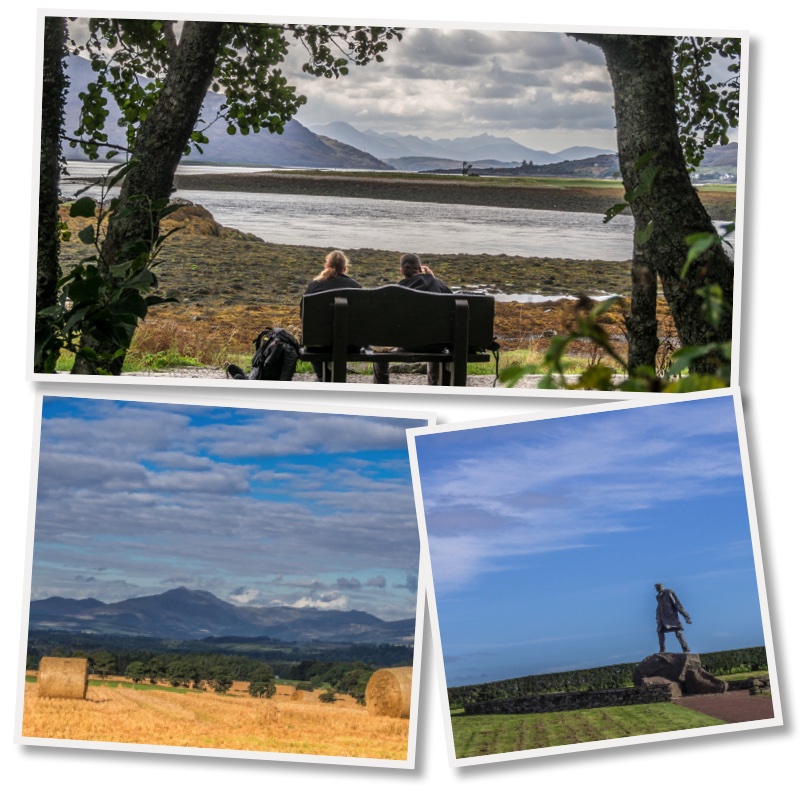 Here we are on Skye after a 240(ish) mile journey which took the nominal 7 hours which equates to around 34 mph average.  Of course that doesn't take into account stops to take on food and water or to ahem, remove the byproducts from the system.  Real average speed was nearer 45 mph.  That's still slow by today's standard, but given the traffic and the roads we were travelling on, was quite good going.
It was a beautiful morning when we left home and pointed the car roughly north, and the weather stayed that way all the way to Skye.  We'd been warned that there were a lot of visitors on the island, but we weren't really ready for the amount of tour buses and mobile homes we encountered on the journey.  In Sligachan campsite alone, we counted 15 of these pantechnicons cluttering up the place.  Really, people do you NEED to take absolutely everything with you when you go on hols?  My brother-in-law was an HGV driver and was telling us tonight that he had to sit a second test to be able to drive heavy lorries, yes most of these ugly homes-on-wheels are driven by amateurs with the road sense of a chimpanzee.  I'm sure most of the vehicles are capable of speeds in excess of 70mph, but the trained chimps seem to be determined to make the most of first and second gear to the exclusion of all others.  "Fifteen miles an hour is good enough for anyone" seems to be their mantra.  I hate them.  They are almost as bad as caravans.  Don't get me started on caravans.
Despite the moving road blocks that are houses on wheels, we had a great run up.  Weather was good.  Company was good.  Music was good.  Chocolate Limes were in plentiful supply.  What (apart from the obvious) was not to like?  Stupid tourists, that's the answer.  We stopped at the Commando memorial at Spean Bridge for coffee and lunch.  With what is usually a lovely view of the mountains to look at.  Unfortunately, some refugees from a bus tour stood in a group eating icecream and watching us.  Maybe they were jealous that we were eating real food and drinking coffee when all they had was rapidly melting icecream.  I took their photo, just so they wouldn't feel left out.  It was like watching sad old zoo animals.  I felt sorry for them when they were herded back into their bus to be taken somewhere else.  I'll post the picture tomorrow.
Once we got to Burnside, we felt refreshed, as we always do.  Good food, banter and a wee dram or two helped as it always does.
Don't know where we're going tomorrow, but probably we'll try to go on at least one new road.  That's the plan.