It may be the Glorious Twelfth to some, but for me the day started OK but gradually and inexorably slid into crap.  That's the way it is sometimes, but it doesn't help me when it happens.  Drove to Falkirk to have lunch in COW coffee bar.  Coffee was OK, but Scamp's was not hot and she does like hot coffee.  Mine was fine.  Lunch was a burger for me and macaroni cheese for S.  Burger was a bit thin and cooked medium rare, which I don't mind in a steak, but am not so sure about in a burger.  Scamp's Mac was not advertised as containing bacon and as a veggie, she was a bit put out by that.  Worse still, the macaroni was overdone and textureless.  So, some work needs to be done on the lunches COW.  The folk that were in there were all having coffee and cake, so perhaps that's a safer way to go.  Other coffee shops abound in Falkirk, so we may be giving them a try rather than taking the COW route in future.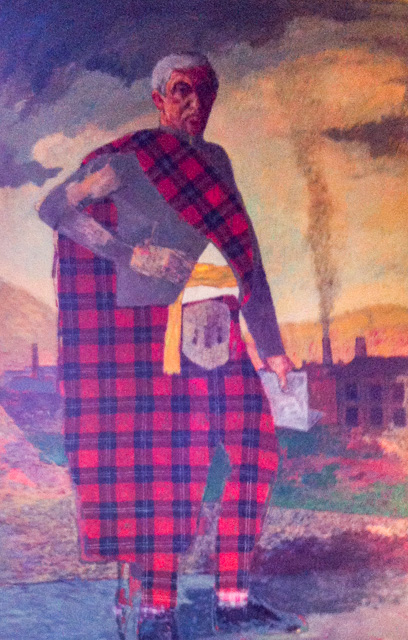 The rest of the day was vanilla.  Just the usual Wednesday.  Went dancing at night and again faced the nightmare that is the M8 westbound.  It really is becoming a pain driving in to Glasgow at night.  Personally I'm getting fed up with trying to find new and less congested routes every week.  Maybe it's just me today.  Today's pic was taken at the STUC in Glasgow and although the face and the background is good in this painting, the hands and the tartan, oh that tartan, are awful.  How could someone do that?
Surely tomorrow will be a better day.