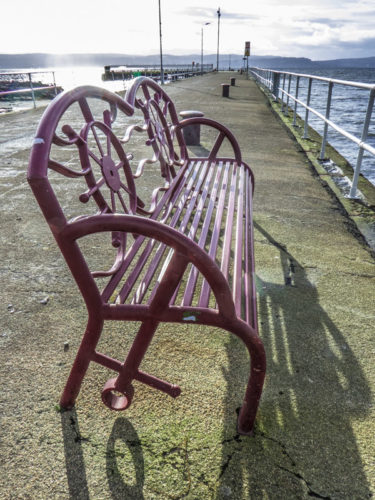 New glasses were high on today's acquisitions.
So we headed off to Larky for the second time this week. Paid my £30 and picked up my reconditioned specs. And what do we do now? Scamp thought we should drive to Glasgow and then go home. I had other ideas. In to Glasgow, but then out the other side. Down the motorway and Oh dear! Oh dear JIC, over the Erskine bridge and on to Helensburgh! But fear not JIC, no walk along the front today, it was far too cold for that. No, the furthest we got was the chip shop for a Helensburgh Pizza Neapolitan and a bag of chips. Both eaten in the car looking out to sea (or Greenock) watching the Hebridean Princess doing twirls, as Scamp called these nautical manoeuvers, in the middle of the Clyde estuary. It was bright sunshine, but although the temperature gauge in the car read 8ºc, it felt much closer to zero than that when we were walking back with the pizza and the chips. There are a selection of restaurants in Helensburgh, I hasten to add, but none of them come anywhere near the chip shop on the front for the quality of the pizzas. It's gone through a fair few owners since we started darkening its door, but they have all provided excellent bread spread with tomato sauce, cheese and a variety of toppings. Oh yes, and chips, of course. Don't forget the chips. More power to your elbow chip shop man and woman.
After pizza and chips, we headed for Waitrose, yet another Waitrose, for some more provisions and, more importantly a cup of something hot and coffee tasting. Their 'flat white' is much better than Costa's offering and today's slice of Salted Caramel Slice was the best ever accompaniment to Napolitana pizza.
Left Helensburgh and drove home along the M8 again, into ever increasing density of traffic, but it would have been much worse if we'd have gone through Clydebank and then through the seeming thousands of little villages with their 30mph limits. Much better to face the M8, with the knowledge that it would all screw up the nearer we got to the Kingston Bridge. Actually, considering it was a Friday at around 4pm, the traffic wasn't horrendous. Just a bit clogged up. Today, however, we weren't under any time constraints, so we just took it easy and went with the flow.
PoD today was a seat on the pier at Helensburgh. It was bright, almost too bright for the Teazer (which looks as if it's collected a few dust bunnies on its sensor), but it was too cold to sit for long, if at all. No sketch or painting today. I'd intended doing an oil for a change, but it turned out my oil paints were dead. Just thickened, unusable blobs of putty. I'll do catch-up tomorrow I hope.
Until then Good Night and Happy Anniversary to H&N! Hope you had as good a day as us today.