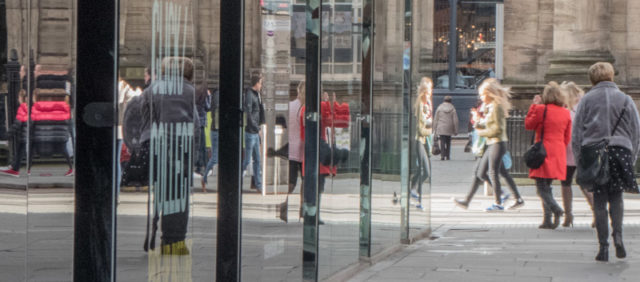 45 years ago today we made it legal. The rest is history.
We got the bus in to Glasgow today to have lunch, a wee drink, perhaps and to celebrate our anniversary. We were heading to Sarti's when Revolución De Cuba caught Scamp's eye. She fancied the baked hake, wrapped in a banana leaf and the Caribbean Chicken Curry would do me. Drinks in a Cuban bar just had to be Mojitos. The Mojitos turned out to be lack lustre with too much ice, not enough alcohol, mint or sugar. Disappointing. The Caribbean Chicken Curry was deliciously fruity and hot, but lacked the volume I was expecting. Scamp's baked hake was the same, but worse. Lacking in filling power, but also lacking in seasoning. We paid and left to have coffee in Nero with a slice of cake each, to make up for the pudding we didn't have.
Wandered round the centre of town. I had a look in CassArt to see if I could anything with a 75% that was advertised on big billboards in the windows. I found one little taster acrylic set that almost made the cut, but wasn't worth buying for £2.25. Walked up to JL to buy our big anniversary prezzy for us and the house, an Amazon Echo. It had been on sale for £75 earlier in the week, but now it was back to the Amazon price of £90. I was happy to walk away from it. Maybe 'happy' isn't the right word, 'settled' maybe gives a better idea of how I felt, but Scamp convinced me that we should buy it. Which is what we did. We were going to have a drink, then get the bus home, but then I suggested getting the bus along to Craiglinn, have a drink there and walk home. That's what we did. One dobber on the bus, a former pupil. He pontificated almost all the way home. I remember him as a pupil at school. An opinionated, but utterly useless individual. He hadn't changed.
After a drink in the dingy, but fairly cheap Stonehouse 'restaurant', we walked home and plugged in the Echo. Spent an interesting hour or so trying to get 'Alexa' the automaton to play some music. 'Her' most common phrase seems to be "I'm sorry, I can't find XXX in your music library." I'm sorry too. She may be going back to JL.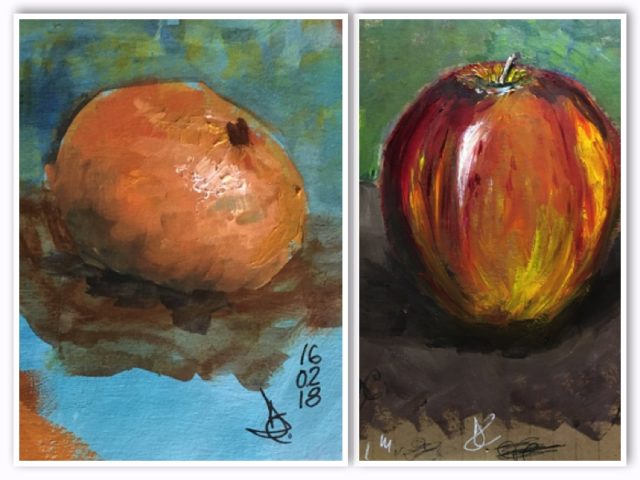 Today's PoD was an attempt at a reflection / distortion shot of the Saturday crowds in Glasgow.
Yesterday's and today's 28 Drawings Later paintings are oils. Yesterday's is the orange and today's is the apple. Used a mixture of oil paints and then realised that although the Water Soluble Oils and the Fast Drying Oils mix happily, if you add water to them, only the WS Oils will dilute and then separate from the FD Oils. Obvious really when you think about it. Pity I hadn't thought about it before I messed them up! Still, the survived long enough to be photographed and entered. Oh yes, and Scamp bought me a new phone case with the camera aperture the correct size and in the correct position, so no more dark shadows I hope.
Tomorrow? It's a Sunday Social day, so dancing, of course.