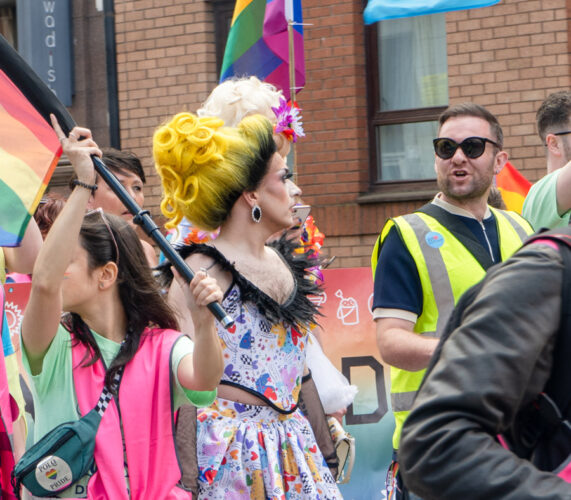 Today we were off to watch the madness that takes over Glasgow for one day only a year and it is called Pride Glasgow.
But first there was unfinished business to attend to and a couple of surprises in store. One for Scamp, and one for me. Scamp's came first.
The postman knocked the door and handed Scamp a parcel, a long parcel, square in shape. A parcel that could contain a really fat pencil or a straight banana if such a thing existed. But there were no bananas or pencils in the parcel. There was a plant in a pot, carefully packaged. It was a Heuchera of the variety 'Paprika'. We had one years ago, but it died and we'd been searching for a replacement in every garden centre we've visited, without success. What we'd forgotten was the biggest garden centre of all, the Internet. I found Paprika the other night, bought it right away, and it arrived today. It was supposed to arrive yesterday, but because of the inefficiency of Royal Mail, it appeared today. At least it did appear. Scamp was delighted and treated it like an infant, being careful to put it out in the sunniest spot in the garden for a while. What was really strange was that I hadn't checked where it was coming from, I suspected it was from somewhere in the south of England. In fact it came from a wholesale nursery in Kilsyth, about ten miles away!
My surprise was next. I was checking for 'likes' and comments on my photos posted on Flickr and discovered that the green photo from a few days ago of a spider's nest had won 'Explore'. That is equivalent of an Olympic Gold Medal in Flickr. Suddenly everyone want to congratulate you and your 'likes' soar to unrealistic numbers. On a good day I get maybe four or five 'likes' on Flickr. This morning I had 71! Now, just after midnight, I have 180! I was Star for a Day.
I think I may have driven in to Glasgow with a smile on my face for once. We walked down to the GOMA and along Ingram Street. Almost at the end of the street we saw the first blue lights of the motorcycle outriders for the Pride March. Five or ten minutes later we saw the first open top bus with the grandees. The old guard of the Pride March. Then it was just the people. Possibly, probably most were running on fuel of some alcoholic description, but a lot of them were just there for the fun, and so were we. I think the first person who was handing out lollypops was surprised at the welcome they got, but lollypops have become a big part of Pride. There were young folk, old folk and middle aged folk too. Folk from every walk of life just out celebrating. Covid could have put an end to Pride, but we agreed that this year, while different from other years was almost as good as the best. Long may it continue.
It was lunchtime by the time we'd seen all the characters and rainbow banners and we went to Paesano for lunch. I was driving, but Scamp had a Prosecco with her pizza (No 1 with no garlic, plus extra rocket – yes, I know there's no cheese. Mine was a No7 Fennel sausage, tomato sugo and mozzarella).
Drove home and processed the 200 odd photos I'd taken and posted PoD which I called The Look. No, they don't have a fag in their mouth, it's the phone from the person behind. (For the benefit of readers from across the pond, 'Fag' = 'Cigarette', not what you think.)
Next task was to get showered, shaved and changed to go out to a ballroom dance in Brookfield (Scamp passed on the shaving!). We had a brilliant time dancing to almost all of the tracks that Stewart played. I must admit I was almost dead on my feet by the time it finished and we drove home in a strange twilight arriving home just after 11pm. You will have gathered by now that this is a catch up.
Tomorrow we may have a long lie in to recover. After that the day will be our oyster. I'm sure some of those walkers and dancers from Gay Pride Glasgow 2022 will have sore feet and heads tomorrow too.