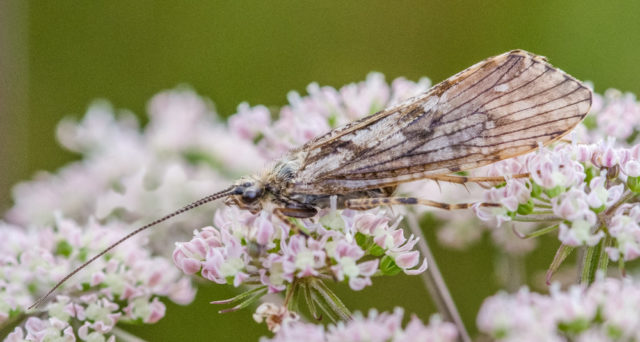 It was another day like the day before. It was fairly dry in the morning, although it had rained during the night. However, it didn't last long. By midday the rain was on and it stayed that way with brief dry spells when the rain was catching its breath, then later in the afternoon it came on and forgot to go off.
Eventually, like on Sunday, I went for a walk over to St Mo's. By that time the rain was lessening and I managed to get some pics of some insects. The sedge was my favourite, probably a Caddis Fly. Beloved of anglers everywhere. Caddis fly larvae ( called Stick Bait) live on the bottom of ponds and build themselves a shell of gravel and bits of stick. The larva itself is creamy white with a brown head and is great bait for trout. The fly is more often fished as a dry fly imitation on the surface of the water. At least that was the case the last time I went fishing, a long, long time ago.
Of course, it's almost impossible to get these shots correct first time, so this is a combination of two shots welded together.
Salsa was enthusiastic and exhausting tonight. I managed to do two classes and that explains the exhaustion.
On the way home there was a beautiful sunset, with golden clouds in an otherwise clear sky. A miracle after the day.
Tomorrow is set fair according to the weather fairies. Dry would be good.