Woke to dull, grey, cold Scotland.
However, a night in your own bed works wonders. Much lighter breakfast than we've been used to last week, but that won't do any harm and will, hopefully remove some of those extra kilos we've both gained.
Today consisted of making inroads in the piles of washing, emptying suitcases and re-stocking the fridge. I went out at about 2.30 to get some photos, forgetting that the light goes around 3pm. That makes today's grab shots the best I've got. Even at that, I was working at 10,000 ISO which accounts for the amount of digital noise in the pics.
Did go to salsa tonight and only stayed to help at one beginners class, then came home. But great news, Glasgow Cooncil have found some parking meters in a skip somewhere and they take the new pound coins, so no more harassing people for their old now non-legal pound coinage.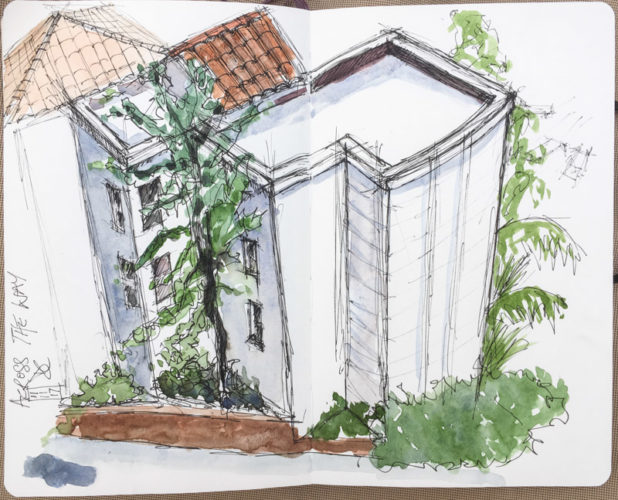 Finally got a chance to display my sketch of last week.  The view from the roof terrace down onto the complex beside us.  It looked nice, but the grass is always greener … !
Don't know what's happening tomorrow. It's too late to think and I've finally cleared my blog backlog. Is that what 'blog' stands for? Does it stand for BackLOG? It seems to for me.