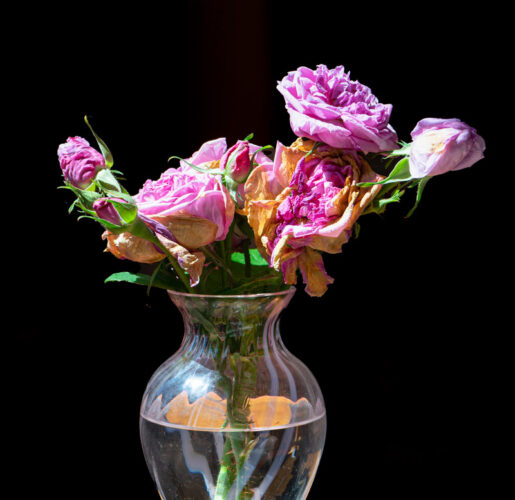 Scamp did some investigating and came up with a solution to the chemical smell from the kettle.
First, though we spoke to Hazy and I found out that there's to be a new series of Good Omens. A sequel of sorts, but with Neil Gaiman in the writing team, it's never going to be a simple sequel. Thank you Hazy for that heads up. It will be on Amazon Prime first, so bang goes my idea of cancelling Prime.
Scamp's research led to an old fashioned solution to the smelly kettle, but it worked. Two tablespoons of Bicarbonate of Soda went in to the tank and then the tank was filled with tap water. It had to stand for an hour or so, so we left it while we went out to get some plants at Calders.
Today, Scamp chose a tray of Dahlias, a tray of Petunias (which always remind me of an old song "Don't jump off the roof, Dad" Search for it on Spotify and you'll find out why) and finally another Begonia. While she went to speak to Carol from Gems, I paid for the plants and sat cooling in the car. Isn't air con the most wonderful invention, especially on days like today when the temperature is hovering around 25º?
With the gardening requirements met, we drove home via Tesco and got the ingredients for tonight's dinner which was Chicken Salad, but will always be known as Neil's Chicken Salad for the simple reason that he was the first one who made it for us.
Then it was time to wash out the kettle (it's much easier calling it a kettle, rather than a water boiler). I gave it a good rinsing with about three changes of water. After that, to make sure the boiler part of it was rinsed too, we boiled one whole tank full of water, a cup at a time. Another rinse and we were good to go. It worked! It was as simple as that. That cleaning took all the chemical smell away. I must remember to ask a chemist how that worked 😏.
After lunch with a cup of normal tea smelling tea for me and White Tea for Scamp, she settled down to plant her new acquisitions. I grabbed the Oly this time and took it for a walk in St Mo's and then out into the wild area that will soon become yet another Micky D's. I got some really nice pictures of a Common Blue damselfly, but then I remembered I'd taken some photos of some roses in a vase on the coffee table after we'd spoken to Hazy. With a little jiggery pokery they shone on a dark background and became PoD.
We sat for a while in the garden before dinner, listening to John and Carlyn's ''Ten Pence Mix wafting gently from their garden. Actually they played some decent music for a change (no Eagles). I had a beer and Scamp had a glass of her new best friend, Bramble & Raspberry Gin. Then it was time for Neil's Chicken Salad.
This might have been the last of the really good weather. We've been warned by the weather fairies that rain is on the way, if not tomorrow, then Saturday and definitely by Sunday. We've had a good spell of warm sunny days, so we shouldn't complain, but we will! Scamp's leg is looking better today. The swelling is going down but it's still itchy.
What we do tomorrow will depend on how near the rain clouds manage to get.