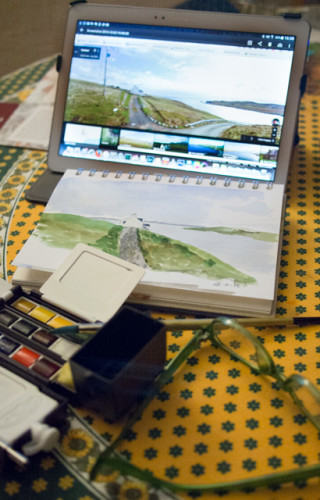 Woke early and after reading a few more pages of my latest book, "The Long Way to a Small, Angry Planet", recommended by my daughter and one that's growing on me (the book, not the daughter – she grew on me from the day I first held her).  After immersing myself in the lives of the deep space crew, I began the task of clearing up the back bedroom or as I see it, "The Painting Room", so that Jackie and Murd would have enough room to put the bed down.
Then it was time to see what was ailing the Mac.  For some reason, Finder is taking an unconscionable time finding its files.  Despite my best efforts, the problem is still there.  I think my best bet is going to be restoring a TimeMachine, but I'll let it struggle on for a few days in the hope that a couple of paracetamol will do the trick.  Failing that and the TimeMachine restore, I'm afraid its Hello El Capitan, but that is a last resort.  I'm pretty sure the paracetamol will work.
Met Fred for a coffee and a natter at midday.  Swapped stories and painting tips and a couple of CDs.  By the time I was heading home from our caffein indulgence, the wind was rising as we prepare ourselves for storm Abagail.  Bought myself a real book.  A hard copy as Fred called it.  Ian Rankin's new Rebus book – "Even Dogs in the Wild".   Looking forward to meeting Rebus again.  He's like an old friend now.
Finally unwrapped the paints in my new watercolour field box.  It's a nifty design with three mixing palettes, an integrated water bottle and water cup.  It's even got a tiny, and I do mean tiny brush and a sponge.  A good design.  That's what created today's picture.  I thought the mixing areas were far too small, but they are fine for sketching, which is what the box is intended for.
Today's cryptic title is from Painting Box by Incredible String Band:
"For somewhere in my mind there is a painting box
I have every colour there, it's true
Just lately when I look inside my painting box
I seem to see the colours of you."