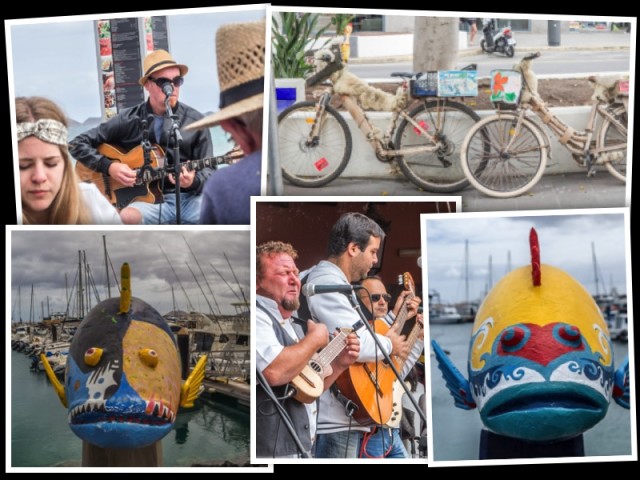 Today after breakfast we walked all the way in to Corralejo. It took us some time.  We passed through a shopping arcade where there was an open air craft market and a group singing folk songs.  Further into town I got a cheap, but really comfortable shirt after waiting in a long, long queue. We saw the most amazingly customized bikes, cycles, not motorcycles, covered in shells and goatskin!
We walked down to the harbour and saw painted fish statues, like the cow parade, but fish!  On the walk back we stopped at a bar where we could have danced last night, had we known. Instead we had a pizza, Scamp had a glass of wine and I had a beer while we listened to a jazz guitarist playing Jimi Hendrix covers. Good guitarist, good pizza and the drinks were very welcome because it was starting to get warm.
Back at the hotel we watched a volleyball game in warm sunshine for an hour.
At night we watched the show – Cabaret and then got to dance salsa and bachata in the disco. Knackered now.