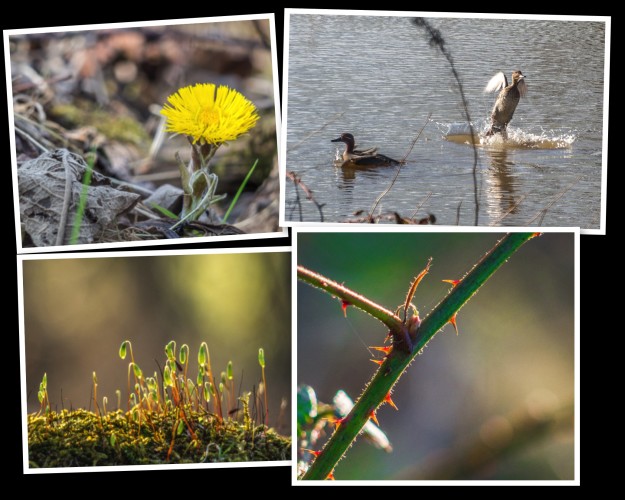 Hey, maybe we brought some sunshine back.  Deep in the folds of our bags there must have been a little seed of Canaries magic sunshine.  When I woke this morning, just after 7.00am the sun was shining through the windows and the sky was blue.  Got up and did a little more catching up on the blog then after breakfast I set to to clear my ToDo list for the day.  By midday it was clear, apart from some more blog posts and Flickr post to upload.  The heavy lifting was done.  I must say that it would have been a much more onerous task without the magic of DayOne and Dropbox.  DayOne on my phone means I can peck away at the keyboard and write about things as they happen during the day and that means it's not such a chore (I hate that american sounding word) to remember and write up my day when I'm tired at night (like I am now).  Dropbox allows me to sync the DayOne write-ups with the Mac.  Anyway, as usual, I digress.
Got the bike out and went out wearing shorts!  I took my longs as well as insurance, just in case the sun was lying and it was really cold.  It wasn't.  It was windy though, an easterly wind, which means it's a headwind when I'm on my way home.  Not to worry though, that would be later.  It was a tail wind on the way out.
Got some good macro photos of Coltsfoot Daisies.  They always remind me of my dad.  He used to say they were one of the first signs of spring.  It was him who told me how it got its name.  It's to do with the shape of the leaf.  Also got some green blobs – my name for the fruiting bodies of moss.  Pretty little things if you take the time to look and quite colourful too.  Got one shot of a duck doing its vertical takeoff.  Ducks make me think of fighter planes the way they take off in a straight line, climbing away into the sky just like a Typhoon or a Tornado does, but a lot quieter.  Beautiful flight patterns when landing too, with down pointing wings – technically anhedral as opposed to dihedral.  Less stable, but better for controlling the airflow.
Salsa and bachata at night.  Old moves, but well remembered in salsa and good combinations that we'll need to work at in bachata.
Mixed forecasts for tomorrow.  As Scamp says, we'll need to see what the weather's like.