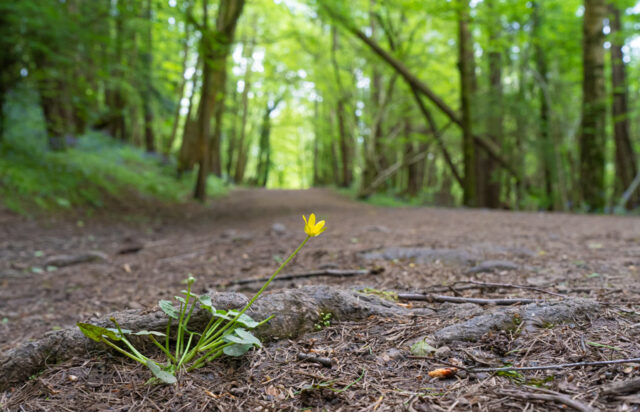 Today we went for a walk round Chatelherault park in Hamilton.
It was my choice to go there today. We could have gone to Drumpellier, but Sundays are really busy there, even if you avoid the 'conveyer belt' and walk into the woods. Besides, it's been a while since Scamp and I have been out for a walk in Chatelherault. Then I found out that there was a Craft & Design fair there today. That would make it a bit busier, I thought, but we'd still manage a walk round the many miles of paths in the park.
A Sunday morning drive and a walk in the park. That would be good. When we got there it became obvious that the C&D fair was a bit attraction because the main car park was almost completely full, but we knew of a better and much quieter parking area and it was almost deserted by comparison. Parked and walked up to the 'Big House', and I was right, the place was jumping. Lots of stalls and hundreds of people. Scamp found the stall she was looking for and they had the exact things she was looking for. With the deal sealed, we stood and talked the the husband and wife who run the stall and who make most of the articles themselves. We've known them for years and always catch up, finding out how their families are doing and updating them on how ours is getting on. We said our goodbyes to allow them the space to bring in more customers and I suggested a walk down past the steel sculptures my brother photographs so well. From there I was fairly sure we could do a circular walk to bring us back to the Big House again.
We walked down the path to the sculptures and passed a couple with a little girl on what looked like her first two wheeler bike with stabilisers. She was having a bit of bother getting the bike to stay on the path and the dad was giving instructions while he worked with his phone. When we were about half way down I could hear the mother shouting at the girl to slow down, but with the rattling of the stabilisers, it seemed that the wee girl was accelerating. There was no way she knew how to stop, she was just hanging on and she was going at quite a speed. I reckoned I could stop her without tipping her over the bars, so I stood right in her path and grabbed the handlebars as she rode right into me. Got her stopped and asked her if she was OK. She said yes! The mother was racing down the hill and caught up with us, out of breath. She apologised and just kept thanking me. The bloke was still standing at the top of the hill, still reading something on his phone. He said nothing except "You should have pulled the brake". Some folk shouldn't be allowed to have weans.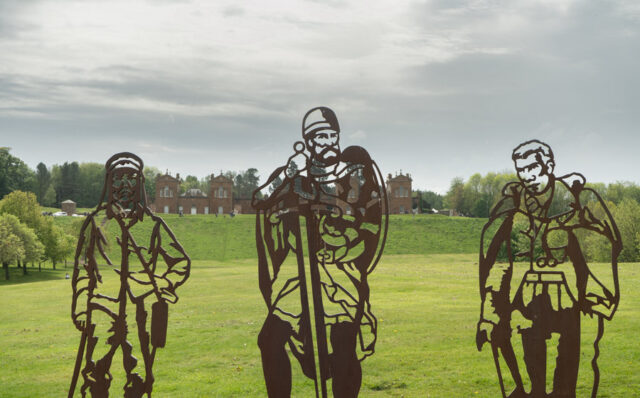 We got some photos of the sculptures, of David Livingstone, William Wallace and Robert Owen. Impressive looking chunks of rusted steel, but the numpty who decided they should put a seat behind them and spoil the effect was obviously not a photographer or an artist.
As I suspected, there was a circular path that took us back to the Big House and it was a lovely walk through bluebell woods. I took a few photos of the bluebells, but it was a single Celandine growing out of the path that got PoD.
When we got back to the Big House it was Scamp who found another line of stalls, but there was nothing there to interest her. We bought a couple of coffees from a van with a proper coffee machine installed and while I was waiting for them, Scamp bought a couple of pieces of fish from another van. Drove home with the air-con on full for the first time this year, I think.
Stornoway Black Pudding and an egg each for lunch, then I gave the car its first wash for ages. I used a spray to remove seagull crap and it worked a treat. Then a quick soapy wash and a rinse with water from Bobby's outside tap.
My dinner had been defrosting since we went out this morning. It was 500g of really nice stewing steak, Scamp had brought back From St Andrews. Carefully cooked it under Scamp's instructions while she did the washing and hung it out to dry. It was a strange day. It was really quite warm, but occasionally there would be a sprinkling of rain that never really got anywhere.
Dinner was lovely. Scamp was going to have some of the fish, but settled for Ratatouille instead. My stew was maybe a bit over cooked, but still tasted like the quality meat it was.
Spoke to Jamie later and heard all about their walking holiday in Yorkshire. It did sound interesting, but quite strenuous too. Another big week for him this coming week.
No great plans for tomorrow. Not intending to catch any runaway weans!