We had decided to go to IKEA today. I hate IKEA, especially the fact that you have to follow the yellow brick road with little arrows under your feet to tell you how to traverse this enormous warehouse. However, loaded with a host of things we hadn't planned on buying, but agreed we couldn't do without, we left with a bag of Swedish Meatballs. All was not lost!
From there we went to Decathlon. From the sublimely organized to the ridiculous. I simply cannot understand how this place continues to draw in customers and revenue. When we went in, a father was explaining to his son why the warning bells were ringing. He told his son it was to warn the security that someone was trying to steal something. Why on earth would anyone want to steal anything from here. The place is full of cheap looking own-brand sports goods with the occasional recognisable brand. Every time I leave feeling disappointed and disillusioned.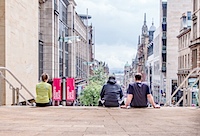 We stopped in Glasgow city centre for a cup of coffee and to buy some art stuff. We also picked up tickets for the Randy Newman concert in October. Tickets were a wee bit more expensive than we'd expected, but I expect Mr Newman needs to supplement his pension somehow. I managed to get a few shots from the steps of the Concert Hall, so that kind of made up for it.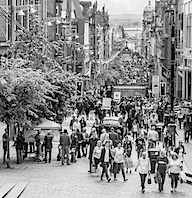 Before we went home, I also managed to pick up one other little extra. When we got back to the car, it was to find that some kind bastard had scratched the front wing with their bad attempt at parking. This Megane must be the unluckiest car I've ever had.
Dinner tonight was a carry-out courtesy of Bombay Dreams. It's been too long since we've had such a good curry. We've even got some for lunch tomorrow. How's that for abstinence?