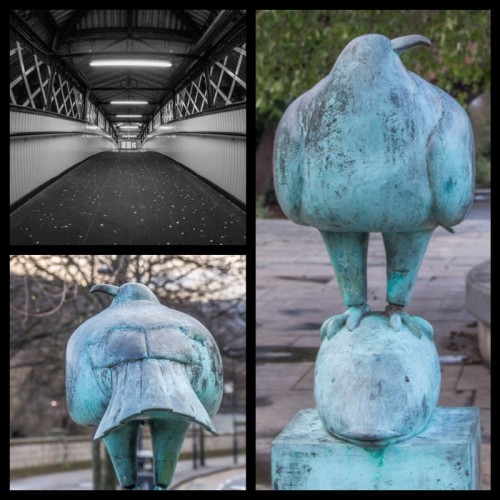 Today we went to Perth. Not Perth, Australia, but Perth, Scotland. Rather than drive there, or bus there, we decided to train. It was a lousy day. Dull, wet and windy. The train seemed to be a great idea and the trip north was very comfortable. I don't know why they built the railway station so far out of town. Maybe the town centre was meant to be near the bus and rail station, but someone decided that a mile or so further down the road was a much more sensible situation for a town centre. Not to worry, the walk would do us good.
The main reason for the trip was to get more coffee and a Chrissy Prezzy for me. I was allowed to choose it, but after we got home it had to go to Santa until the 25th. After the purchases we went to The George for lunch: Fish & Chips (x2). It was lovely. By the time we came out it was just after 1.00pm and you could already see it was getting dark. I got some photos of some statuary near the river. After that we fought through the wind and rain on our way back to the station, only to find out we had a 45min wait for the train. A 45min wait on a metal seat next to a couple of joiners who were building a wooden box about two metres long by one meter wide by two metres high. I think it may be a waiting room, a new concept in Perth Railway Station. Even the dismal 1950s bus station waiting room is luxurious compared to Perth Railway Station's waiting facilities: a metal bench that seats four. Food for those waiting is catered for by a drinks vending machine and a chocolate vending machine – superb! The station does have a sign saying 'Welcome', but that's where the welcome ends.
Thankfully the journey home was quite excellent. Just under an hour for the entire journey from Perth Railway Station to Home. Scary though. Not the journey, but the amount of water that was passing by the windows of the train. So much water. Flooding everywhere from Perth to Stirling. It's then you realise how lucky we are to live on a hill.