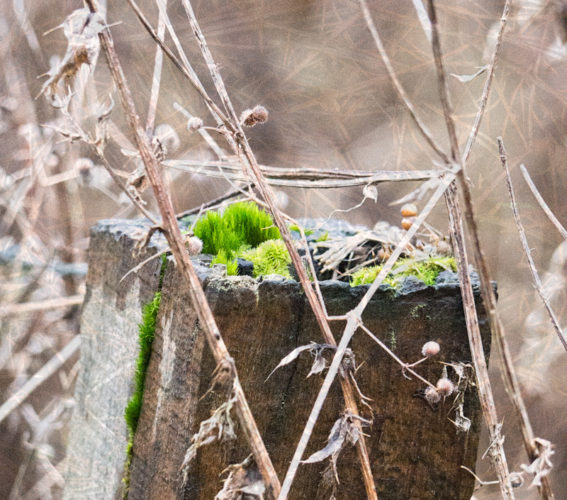 I hope Jaime doesn't mind me paraphrasing his 'day after the day before' saying.
Maybe you could remind him of it JIC. It was the day after the wedding in Trini.
Not the brightest day, mainly because it rained almost all day. Scamp forced herself out to buy what was left of Tesco – which wasn't much. After lunch which was a Full Scottish:
Fried Black Pudding
Fried Pork Sausages (2)
Steamed Haggis – the healthy option
Fried Clootie Dumpling
Fried Egg
It's sometimes called the Heart Attack Special, but that's really only when served with fried bacon and fried, not steamed, haggis! I survived it, but afterwards decided to go for a walk to allow my stomach to digest this fat-O-rama. I walked down to the petrol station to get some more stuff for tomorrow's lunch, because Tesco would now be closed for re-stocking and awaiting more food being helicoptered in to feed the starving thousands on Boxing Day. On the way back I got today's PoD which was a wee garden on the top of a rotting fence post. I liked the little look-alike fir trees that were really moss. To disguise the grain of the ISO 6000 image (and because I could with a new bit of software) I added a texture screen made from a photo of some pine needles I saw further along the walk. Soooooo much easier than using texture screens way back in the days of darkroom printing.
I was looking forward to having a Denver Steak for my dinner tonight, but after a freezer malfunction the other day it had defrosted and when I opened the package is was a Smelly Denver Steak and was promptly consigned to the bin. Hopefully the other stuff in the freezer is OK as it was vacuum sealed and hadn't been as badly affected as my steak. Luckily I'd bought a couple of steaks last week and one of them provided my protein intake for tonight.
Watched 'Home' tonight. A pointless bit of cartoon fluff that entertained perfectly. Hazy, it took me a while to work out that is was Jim Parsons voicing 'Oh', the Boov fugitive. Funny film when there's nothing else worth watching. But that's what Xmas is all about, isn't it? Watching films you wouldn't otherwise consider worthwhile. It's also about ignoring the abominable 'Muppet Movies' that appear at this time of year. Would you believe that STV are actually advertising ET as a movie this Xmas season? It was first shown in 1982!!! It should be in black & white and have a piano accompaniment.
Anyway, by the time I get this posted the witching hour will have passed and I wish you all a happy Christmas. To those who are in cold climates, tough. You have to be to live here. To those who will spend Christmas on the beach, you lucky, lucky people. Have a Bake & Shark washed down with a Sorrel Shandy for me!