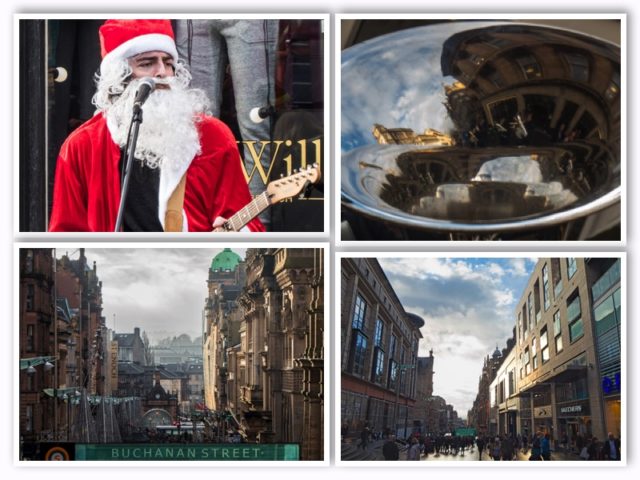 We decided we'd go to Glasgow today and we also decided to go on the bus.
Up and out fairly early so that we could come back home early too. Walked over to Condorrat to get what is really a limited stop bus. One that takes about 20mins to go in to Glasgow rather than the X3 which takes 45mins on a good day. Public transport? People don't use it because they don't want to waste an extra 25 mins of their time when they could be doing something interesting.
Walked through JL looking for nothing in particular and expecting no great bargains. We were not disappointed, there were no bargains today on Christmas Eve eve. What we did see on the ground floor was greatness indeed. Her Majesty Nicola (Nick the Chick) Sturgeon was parading herself in front of her loyal subjects (and us.) I was awestruck. It is only rarely that I find myself in the same square meterage as such a royal personage. Then she was gone to grace some other unworthy commoners. I may never was these shoes again. They may have stepped in the footsteps of Wee Nick. Not to be confused with Auld Nick, although to some there is little difference.
Coffee was called for, then we walked down Bucky Street and while Scamp wandered in and out of shops, I managed to grab some photos. A few of which you see here. PoD was definitely the shot looking down Bucky Street with the subway sign at the bottom of the frame.
Lunch was in Paesano's and it was as good as ever. Scamp deemed her potato, onion and sumo (no cheese) special to be 'Ok', but can we take the word of someone who doesn't eat the crust of the pizza? I think not, dear readers.
Dropped in to Cass Art to buy a Catalyst painting wedge as used by the winner of Landscape Artist of the Year. I think it automatically confers his skill into your painting. That's what I'm hoping anyway. I also bought a tube of Sap Green paint to replenish the pan of my painting box. It's much cheaper to fill the pan with paint from a tube and allow it to dry overnight, than to but a replacement pan. You get two or three fills from a tube that costs almost the same as the pan. On a whim I also bought a tear-off palette for oils and acrylics. I usually use a big white tile as a palette, but I thought I'd buy a chuck-away one for a change. It means I can pose like a real artist when I'm painting.
We got the bus home. I bet Queen Nick didn't. I'll bet if she had wanted to get the bus, some of her minions would have made sure it actually arrived, unlike ours. Public transport? People don't use it because they can't be sure if the bus will arrive.
Since it was Christmas, the TV was crap, so we settled on Netflix as an alternative. Watched an eminently forgettable bit of fluff that kept us amused for a couple of hours.
WiFi is unpredictable tonight, so this may not be posted until tomorrow, due to circumstances beyond our control.
No plans for tomorrow. Just waiting for Santa.