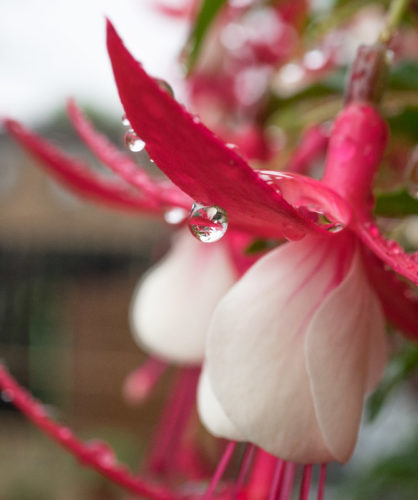 It had been away for a long time, but today the rain made its triumphant return.
In a way it was good to see the rain.  It was like an old friend you haven't seen for some time.  It also meant we wouldn't have to water the garden tonight.  It was a gentle soaking rain that seeped into the soil and made sure the roots of the plants got properly wet.
It took the opportunity to use it as an excuse to get started on cutting out the lining of the waistcoat.  The Not-Quite-Satin I was writing about yesterday was really slippery today after I'd tentatively ironed it with Scamp's super-zoomer steam iron, but I persevered and got three pieces cut out. One for the outside of the back and one for each for the inside of the front pieces.  That leaves three to be cut out still.  One for the inside of the back and two that will make the belt up the back (No jokes please).  It really is so difficult to work with fabric that is so slippery.  Even the scissors didn't seem to want to cut it properly, or maybe I'm just not doing it right.  I tried the wee Olfa rolly-cutter (technical term), but it didn't want to touch it either.  I thought this bit was going to be easy.  Now I'm dreading the sewing up that comes next!  Hoping against hope for a good day tomorrow so I can go out and take photos instead of firing up the sewing machine.
After lunch I did take the plunge, grab my cameras and go for a walk in St Mo's. In spite of the rain, I did enjoy  the walk, but came back with three photos.  Then I looked out the kitchen window and saw the hanging basket with fuchsias dripping with rainwater.  Surely there was a shot or two to be had there.  Actually there were 41 shots to be had there.  Most disappeared onto the cutting room floor after they went through my rigorous selection procedure, but a (very) few remained and from them, two went to Flickr and PoD became the little raindrop fish-eye lens you see here.  It's a bit of a cliché, but even clichés have their place.  I'm just showing off now that I can do that acute over the 'e' like this é.  Right, that's quite enough of that.
Scamp was making dinner tonight.  The rules of the game are that it has to be a new recipe and it has to come from the most recent food magazine.  Tonight it was Spicy Chickpeas with Sea Bass.  Except she mistook Haricot beans for the Chickpeas, but I thought it tasted great the way it was.  With a green chilli and a spoonful of chilli flakes it was fairly fiery.  I didn't mind at all, because it was very tasty.  A choc ice afterwards went a long way to cooling down our overheated tongues!
Tomorrow we're hoping to go dancing in the afternoon and at night, because next week with be Salsa free 🙁  Monday is a local holiday, so the STUC will be closed and Jamie G is off on his travels again on Wednesday, so we won't be making the pilgrimage to Glasgow in the evening.