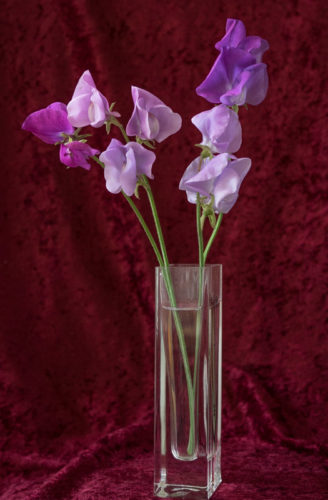 A late night last night and a late rise this morning finds you chasing your tail all day.
Scamp decided that it was time to cut the first of her home grown sweet peas this morning.  They looked so lovely just sitting there, I couldn't resist the temptation to take a few photos. I needed a background, so rather than use my usual sheet of cartridge paper, today I found a piece of burgundy crushed velvet.  Probably not real velvet, but cloth with a fair amount of man-made fibre in it that gave the appearance of velvet.  It fitted the bill perfectly.  After a few failed attempts at getting the exposure right, I finally found the setting on the Oly 1 that made the EVF (Electronic ViewFinder) give me the view that the exposure settings were actually producing, not the one optomised for viewing.  The Oly 1 is such a complicated beast with so many settings, it's easy to forget how to achieve things.  You have to work on the assumption that someone, when they were designing this camera, had indeed thought of every single thing that a prospective user would need.  Then they built that facility into the camera and buried the switch that turned it on, deep in that labyrinth of a menu.  After about five years, I'm almost certain I can find everything I need in the Oly 5 and the Oly 10, but the Oly 1 has some of its settings in another dimension, discoverable only if you know the magic phrase1.
The result of my work with the Not-Quite-Velvet and the Oly 1 is the PoD seen above.
All this was done while Scamp was out 'getting the messages'. When she returned and after we had lunch, she went to wash her car and I went to puzzle out  the next part of the jigsaw puzzle that may one day become a waistcoat.  I was just getting to grips with the logistics of cutting the lining pieces from a wrongly shaped piece of Not-Quite-Satin when my phone reminded me it was time to get my Blood Pressure checked at the Doc's.  Nothing really wrong with it, it was just a precaution because part of my medication had been changed.  BP was deemed ok and I was set free to go for a walk down the Luggie.  Lots of Bonking Beetles (Soldier Beetles) doing what they do best, but not a lot of other beasties.  One dragonfly circled me a couple of times before deciding that I was probably too big to be his dinner and anyway I'd be too heavy to carry away.  Saw a couple of hover flies pretending to be white tailed bees, but they were too skittish and flew off as soon as the big man came near them.  Ended up hot, bothered and disillusioned.  Drove home through some sporadic rain showers.  I think the rain was just practising for the big rain event that the weather fairies tell us is coming in the next two or three days.
Made a chicken and potato thing for dinner that seemed OK, but had fried crispy capers in it.  I wasn't impressed with them and neither was judge Scamp.  Her turn tomorrow.
No dancing tonight as Jamie G is off somewhere sciency.  Tomorrow we have no plans, but like I say, the weather doesn't look good.
---
It's "Izzy Wizzy Let's Get Bizzy".  At least, that's what Sooty told me. ↩