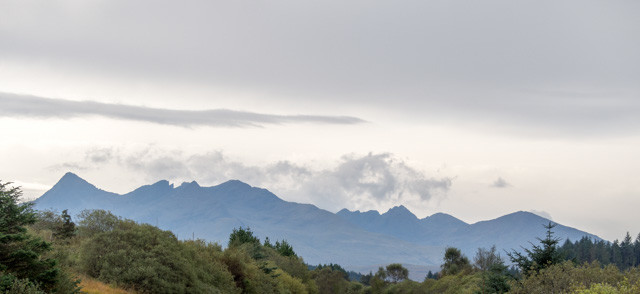 It's never a happy day, leaving Staffin for the seven hour journey down the road. We always leave with a heavy heart. Me, to lose the silence and Scamp to lose the space. Today was nearly worse. I nearly lost my rugby top. Thankfully Jackie texted Scamp to say I'd left it on the bed, so, since we were only a few miles on our way, we headed back to retrieve it. Drove down to the biscuit tin to have a coffee and a scone. Scones are becoming important to me. Eilean Donan has a photography gallery just now featuring the castle. Some are great, some are just good and some are honestly abysmal. Each has a small description of the photog, written by the photog. Like the photos, some are good, some are … well, you get the idea. Most have 'a passion' somewhere in their description. I hate 'passions'. It's everywhere just now. Cooks on the thousands of cookery programmes, dancers, everyone has to have a passion. One of the photogs used the 'passion' word five times in his self promoting prophesy. That's too much passion for anyone to have, even about themselves.
Anyway, next stop was set for Spean Bridge. To the wee roadhouse place that used to be a Little Chef and was so much better than that was. Got there to find it was closed. End of season just, I hope. Ok, next stop Fort Billy or Fort William to give it its Sunday name – it was Sunday, so I suppose I should give it the William name. Lunch at Morrisons was a fish and chips and a good F&C it was too at a very reasonable price. Nothing fancy, just hot, fresh F&C. The rest of the road was just the boring run home. Stopped just after Crianlarich for a cup of tea and a chance to stretch our legs and a walk along a bit of a river. Beautiful evening light. Didn't take my camera, but had my iPhone. On this occasion, the phone didn't shine as a camera. Disappointing shots.
It was a good holiday. The quiet and the space. You can't beat it for refreshing you.