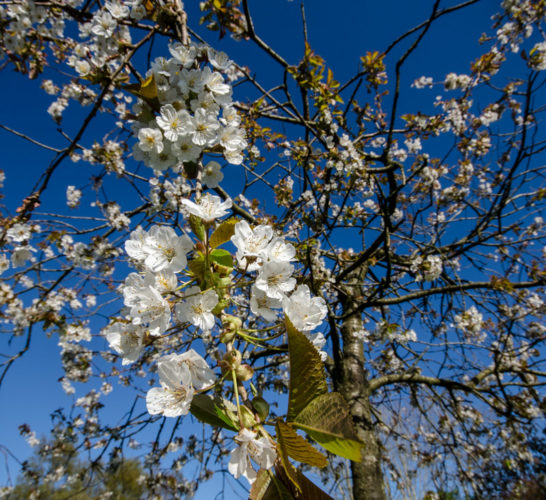 It was a fair bit colder today caused by a strong east wind.
East winds are usually cold. They blow in from the North Sea which has no North Atlantic Drift (Wrongly called the Gulf Stream) to warm it up. It felt raw today, but inside with the sun streaming on through the front windows it was lovely. So lovely I didn't want to shift too far from the couch, which is a bad thing really. Eventually had to move to get lunch. After that I was encouraged to go for a walk to allow Scamp some 'me time'.
I chose to walk round St Mo's, but I'm becoming jaded with its greenery, its swans and geese and even its trees which are starting to look very tree-like all of a sudden. I didn't even take any photos there today. Instead I walked down through the underpass and on to Broadwood Loch. Unfortunately it was the same story as yesterday. Too many people in too big a group with only one brain cell between them. The paths are very tight in places and while some people give you room to pass, some of the dunderheids don't know enough about social distancing or don't care and just bustle past. Really, they shouldn't be allowed out without a carer, a polis escort or at the very least, a man in front of them with a red flag. Cumbernauld! Where it's not just the dogs that piss on the trees.
On the way back up over the green hill between the ring road and the houses where they are considering (Councilspeak for going ahead with) building yet more houses on the greenbelt. That's where I found another wild cherry tree and took its picture. That became PoD. Hardly needed any post processing.
Watched Christine & The Queens tonight on YouTube on Fire Stick because it's about ten times faster than using the Sony TV to do it. It all started with trying to watch the Stones on BBC singing in harmony(!) with each other from their homes, over some supposed video link that was as dodgy as the singing. At least it was funny, but the presenters, oh dear, the presenters. The Wood family. Just not up to the job I'm afraid. That's what sent us to YouTube to find C&TQ, which was what we were looking for. Amazing performance from Glastonbury last year.
That was about it. Short dancing practise today. Tomorrow, probably longer one.