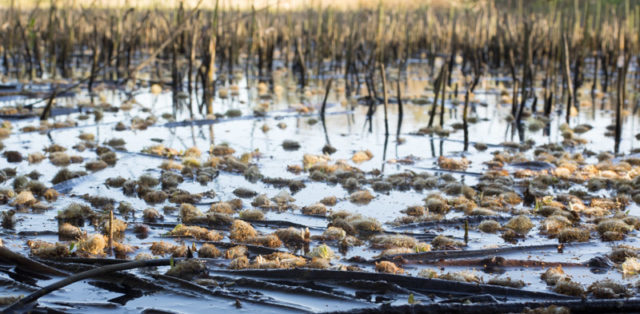 Up and out early to go for a walk in the new paths of Broadwood.
Actually, although we were up and out fairly early, the paths were already being well used by others. Cyclists and joggers were out in force and so too were those, like us, who were out for their daily exercise. On our way out we met a few fellow walkers and in the woods we met hardly any. In fact the paths were so quiet we spotted a deer feeding near the little lochan not far from the famous Irn Bru factory. Fear not, dear readers it was drinking from the lochan, not from a can of Irn Bru.
The walk back was the usual boring walk beside the least interesting piece of manmade loch in the Western Hemisphere. Broadwood Loch is not my favourite place, as I'm sure you've guessed. It was made even more tedious by having to avoid the great unwashed walking in the opposite direction or attempting to cycle in that direction via the steep banking on the opposite side of the path from the loch. The punter in question just managed to stay vertical, more from good luck than from skill. Forget the story that "It's just like riding a bike. You never forget." Possibly you do never forget, but only if you knew how to do it in the first place. Pity, because it was a waste of a new bike!
Back home and after lunch I started again at the painting of the four slices of orange. I'd given up yesterday and slapped a coat of white on top. Today I redrew the painting with new orange slices. It was a bit better, but still not right. Eventually I gave up and started a third time on a new sheet of paper. This time I used a viewfinder, something I've never used before, but with its help I managed a reasonable copy of the scene in front of me. Slapped some thin acrylic washes on the sketch and left it to dry while I took the camera for a walk in St Mo's.
Not much happening there, but at least I was out of the house again and doing something. The something I did was complete my 10,000 steps for the day and then a little late the 8 active hours. Result (of a sort)! Today's PoD was of catkins sitting on the surface of the pond, like little yellow ducklings. Back home I finished the painting and it started to look much better. Sometimes it's the simple things, like the shadows that bring a picture together.
Mojitos tonight. Not the best mojitos I've made, but reasonable. Scamp later told me I was using the wrong sugar and I suggested that soda water might have been better than sparkling water. Just excuses really. The best way to enjoy a mojito is to get someone to make it for you and then try to walk back to your hotel. That's not going to happen any time soon.
Spoke to JIC tonight and found out that our nice warm day with a cold wind was a non-starter, compared to their 20+ºc. We probably managed 14º at best, and that was without windchill.
Tomorrow, as usual in Lockdown, we have no plans. Well, maybe some dancing practise again.