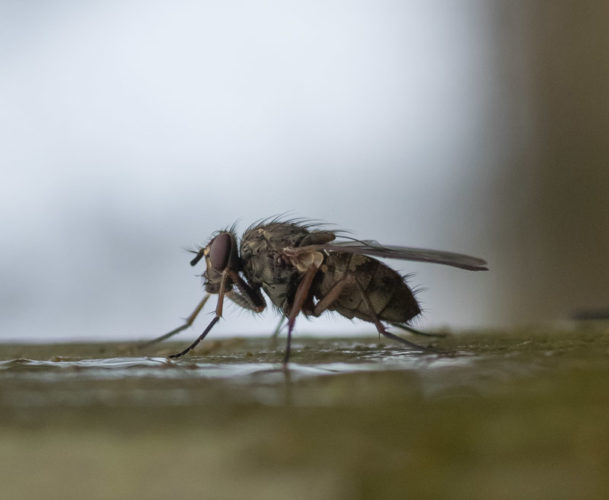 Well, that didn't happen.
It was a great plan and would have worked too if it hadn't been raining. To be honest, it had been raining all night and the morning was just the continuation of the deluge. Maybe I shouldn't call it a deluge, it was mainly just rain in all its glorious variations, but whatever variation it was in, I wasn't going out in it, at least not yet.
By lunchtime and with Gems looming, I decided I'd go "For the messages". Scamp gave me a list. I put on my big Bergy jacket and drove off to get some food. Raided Tesco and got everything on the list and a few more things too, and still it rained. Came home, put away the messages, grabbed my camera and went for a walk in the rain.
They were actually laying tarmac on the paths round St Mo's pond when I went over and I saw the strangest sight. My brother has a saying "The things you see when you haven't got a gun." The thing I saw today was a bloke in the full hi-vis rain suit lying stretched out on the freshly tarmacked path while the aforementioned rain fell continuously. I was just getting worried for his safety or mental state when he got up and stretched in a leisurely way. I imagine the warm tarmac was quite comfortable to lie on. I just hope there's not a man shaped depression on the finished footpath. Maybe a 'tarmac angel'. Of course I had a camera, but I'd only brought a short lens with me and wouldn't have been able to get a good shot of it, but what a shot that would have been!
Found a few bits of wildlife around and about, mainly in and on the trees. Tiny wee snail about 4mm long, a fly that presumably had hatched in the relatively warm spell we're having. Similarly a shield bug, bright green underneath and dull green and brown on top. Perfect camouflage when sitting on the bark of a tree. The fly won PoD.
After dinner we drove in to Glasgow to find that Shannon was taking the class. Big disappointment and big surprise to even the other young teachers. We vamoosed to the kitchen area and practised our jive, quickstep and waltz for a while. Scamp hadn't been feeling too good today because she has waterworks problems and they were making theirselves felt towards the end of our enforced practise, so we left early after warning everyone coming in that Shannon was taking Jamie's class. We're guessing after some research by Scamp that he'd been caught out by a train blockage between Aberdeen and Edinburgh. We'll give him the benefit of the doubt and let it be.
Scamp may be going to lunch with Mags tomorrow all being well and I might be having coffee with Val and Fred all being well. We'll wait and see. It's still raining!