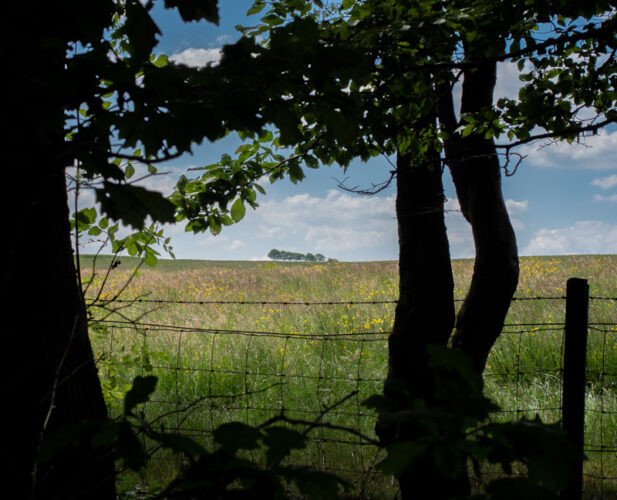 It was a beautiful morning and we were off early to Chatelherault in Hamilton.
I usually take one camera with two or three lenses. Today I took two cameras and two lenses. That meant I didn't have to change lenses out in the wild, windy, dusty woods. It sounded like a good plan.
We started off going over the Duke's Bridge, then turned left. Then … They say a picture is worth a thousand words, so here are one thousand words: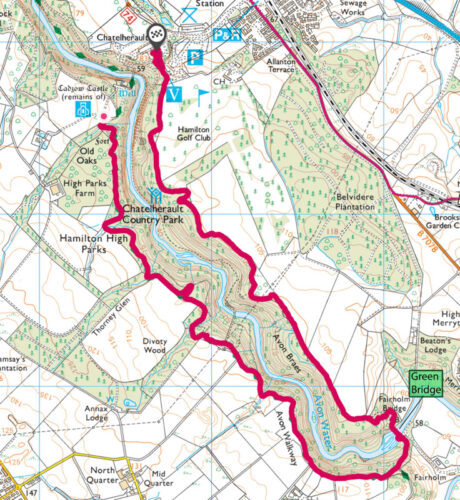 Actually the walk started at the chequered flag, but I forgot to start the OS app when we left the car and we walked the route anti-clockwise.  Oops.
After a gentle, but constant climb we reached the first of the Down Dale stage, immediately followed by an Up Hill part. That was the first of many, but generally it was just a walk. We found some newts in a pond. I couldn't see if they were of the Great Crested variety, but they were definitely newts. Found some damselflies there too. Found a mountain bike partly disassembled and lying in the trees just off the path. Thrown there in disgust it appeared. After an hour or so of walking we started the descent to the Avon Water and the Green Bridge. As I'm sure I've said before, the Green Bridge is not green. It's just that silvery grey of weathered wood. The original bridge on that spot was made of steel and it was painted green. It was one of my mum's favourite places to take us in the summer holidays, with a bag full of pieces and a vacuum flask of tea. Great days.
We stopped at the bridge to rest a while then crossed it knowing that this was the halfway point and one of the biggest 'Up Hills' was ahead of us. After walking on an elevated path through the trees, usually between two pools of water which today were bone dry, the path turned and started climbing in a series of awkwardly long steps. Up and up and up until we found the seat at the top, thankfully, vacant. Scamp had come prepared for this with a plastic tub of apple slices liberally doused with lemon juice. I had a bottle of water in my rucksack too. After we'd caught our breath, we vacated the seat to two ladies who had just finished the climb. They were as thankful as us for the rest.
I found the walk from the top of the steps to the Visitor Centre a bit boring compared with the outward leg, but Scamp wasn't concerned. I usually hate golf courses, but I was glad to see one appearing on our right side, because that meant we were nearly at the Visitor Centre. When we got there, we had a coffee with an apple pie for Scamp and a scone for me. After that it was a case of changing boots for something more comfortable and driving home.
Back home we stopped off at M&S for beef burgers for me and some fruit for both of us. Back at the house we sat in the sun in the garden with a beer and a Pimms. I'll let you guess who got what. Dinner was the remaining Trout fillet for Scamp and an M&S burger for me. Later we watched Bakeoff the Professionals while most of Scotland watched the Scotland team be ousted from the Euros.
PoD turned out to be landscape view through the trees to another group of trees on the horizon.
Tomorrow the weather looks a bit wet for a change and we're looking for something less strenuous to fill our day.