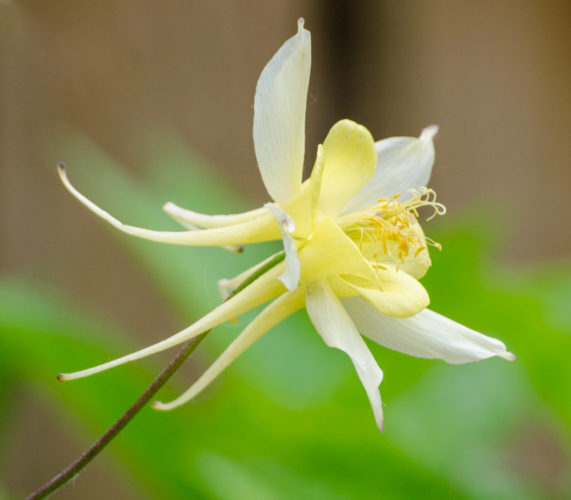 … for the party to begin. Going to a wedding reception tonight.
There wasn't much else to do today apart from tidying up and getting organised. It was a much more relaxed day than yesterday. Spoke to Hazy in the morning and admired the views from JIC and Sim's holiday cottage. That was about it.
Today's PoD was taken in the garden. My delicate little yellow aquilegia that has withstood Storm Hector and is still smiling.
Finally the time came to get dressed and go to the reception in Bearsden. For once, a suit I've not worn for a year was too bit for me. I'll say that again, TOO BIG. I had a kilt taken in yesterday and now may suit trousers need a belt to hold them up. What is happening to me? Don't worry, I have the antidote to this strange malaise. I'm sure in a couple of weeks it will all seem like a slim dream and I'll be back to reality. Just wait and see.
The reception was quite like the one we had for JIC and Sim four years ago. It was a Scottish reception for a friend who got married abroad. Only close family went to the wedding with the friends and in-laws attending the Scottish reception. It was the full rerun of the Italian reception with speeches and a cake. It was a good night. Got my birthday book signed by Jo, the author. As I was driving, and the bar only had Becks Blue on the 'no alcohol' list, it was the Orange Fizz (Irn Bru) for me. We did do one salsa dance for half of a track at the insistence of Anju. I was being very careful of the 'bad knee' and so was Scamp. Still, we can now say we danced at Mhairi's Wedding!
When we got home I had a bottle of Old Engine Oil to take away the synthetic taste of the Irn Bru and went to bed. So this blog entry is actually written after the event. I'm sure there will be a few sore heads among the Bearsden population on Saturday.
Tomorrow (well, today in reality) we won't be going far.