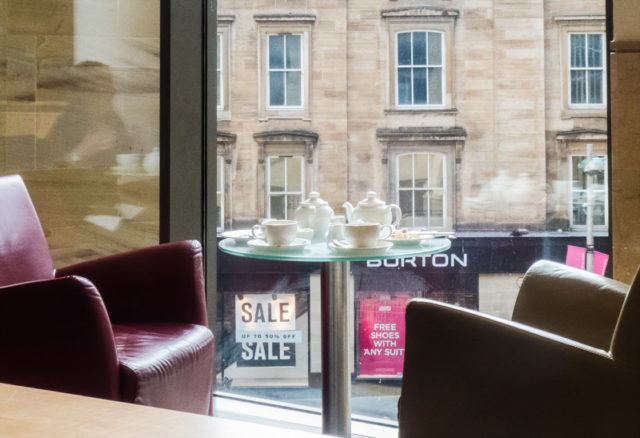 A busy day, in fact, a very busy day.
The day started with me dragging the brown bin and the grey bin into the teeth of a storm (Storm Hector) out to be emptied. I expected most of them to tumble and distribute their contents over the pavement, but they survived upright until the bin lorry appeared and emptied them.
Next was a bit of blood letting, the second in a fortnight. I didn't know my blood was so interesting. When I returned with a little less blood in me than I'd gone out with, I picked up Scamp and we drove in to Glasgow to:
Look for a pair of trainers for me.
Have lunch in a new restaurant (to us) in the West End.
Find a belt to hold up my kilt now that my waist has reduced in diameter.
Task 1. Parked at Tiso and suspended my disbelief at the prices they were asking for a pair of nylon shoes. However, I buttoned my lip and tried a few pairs on. None of them were exactly what I was looking for but some were worth looking at again. May go back again.
Task 2. Not really a task, more a test, to see just how good it was. Drove in to the city centre and got the subway out to the West End then walked down through the storm and occasional showers to La Lanterna West End. La Lanterna in the city centre is quite a Glasgow institution, one of the first, and some would argue, one of the finest Italian restaurants. I'd spotted LLWE on Monday when I went for a walk, rather than risk my knee in the advanced salsa class. Snapped the menu on my phone and booked us for lunch when we got home. It was not very busy. Just three blokes obviously having a business lunch. One of them apparently had two mouths! They were behind us, so I couldn't confirm my theory, but the only way he could talk, constantly while eating was if he had two mouths. Also, since his cerebral cortex would have to synchronise swallowing with breathing, that would explain why he was talking absolute shite. One of those people who are so important they have to talk about themselves all the time. Have you noticed that people like that rarely ask questions, and if they do, they never listen to the answer? That's because they know everything and don't need your opinion, especially if it contradicts theirs. Scamp says I'm a cruel man, sometimes. Sometimes? What do you mean, Sometimes?
The food was good. Scamp had Arancini for starter and I got a bite of one – it was superb. I had Rigatoni Amatriciana with braised pig cheek instead of bacon. Scamp's main was Hake fillet in a light tomato broth served with potatoes. I had Risotto with roasted pumpkin and wild porcini covered in parmesan shavings. Now it was lovely, but I got greedy (who me?) and scoffed the lot, which was a shame because it lay a bit heavy in my stomach for the rest of the day. We'll certainly go back DV.
Task 3. Subway back in to Glasgow. It was now about 3pm and the train was busy. Scamp got a seat but I chose to stand. I must have looked as if I was in a bit of pain because a girl sitting opposite Scamp offered me her seat. I smiled and thanked her but said I was OK. It thought that was very kind of her and thanked her again when we left at Cowcaddens. It's nice to see that kind of attitude in young people today. I also thought as I was getting off the train, "Maybe I just look like an old man, an auld guy, which I suppose I am." Walked up to Bath Street to see about a belt to hold up my kilt. The girl told me that a belt wouldn't really help and suggested I get the kilt adjusted to fit. I told her I'd been told last year that it would take a month or so for the alteration. She seemed surprised and said she could do it today if I could bring it in by 6pm. It was now 3.30pm. Yes, we could go home, get the kilt and bring it in with time to spare and that's what we did. Drove home, picked up our bin which was lying are un the kilt, drove back to Glasgow and handed it in. Got measured and told to go for a coffee and the kilt would be ready for us in an hour. AN HOUR, not a month! Did as we were told, went to JL and had a pot of tea each which is where today's PoD came from. I liked the shot because it looked like a still life. Walked back to the shop and tried on the kilt and knew right away, just like Cinderella did, that it was a perfect fit. The girl, I didn't even find out her name, wouldn't take anything for the work, but I managed to get her to accept a few quid as a token of my heartfelt thanks. Walked out of that shop feeling better than I have for at least a week. Both the girl on the train and the girl in the shop will never know just what their individual gestures meant to me today.
Tomorrow will hopefully be a less frantic day. Still stuff to do. Still people to see. Just at a less frantic pace.