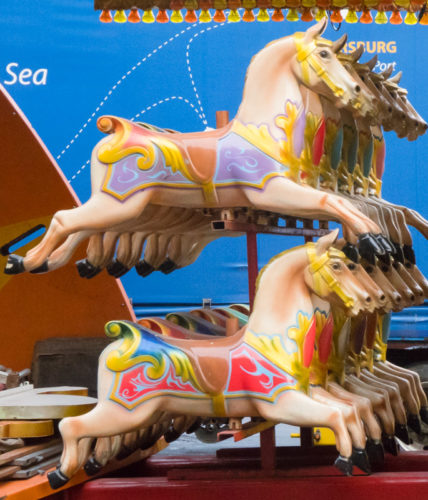 Woke to temperatures at least 10º below what we'd been used to lately.
Thankfully the wind here was a lot calmer than in Fuerteventura, but the temperature was unbearably low. That didn't stop Scamp encouraging us both to get up and go in to Glasgow to Jive, Quickstep and Waltz our blues away. Actually, I quite enjoyed it. The Jive was ok with another move added to our repertoire, The Arm Through. We'd actually done it as part of another set, but this time we were doing it properly. The first Quickstep we did was very smooth, I felt, but after that, every one was worse than the last. The Waltz went quite well, considering almost a fortnight without dancing ballroom.
Coffee and a discussion of our merits and demerits then home. I did get a couple of shots in Glasgow. My favourite was the stack of roundabout horses in George Square, but the most impressive was the one of the glass wall of 110 Queen Street. The horses won PoD.
Tomorrow we're getting the messages for Friday's dinner with Crawford and Nancy. A trip to Stirling or Falkirk.