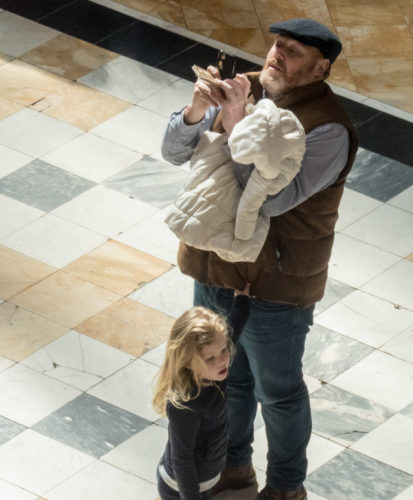 Went to Glasgow to see what Leonardo had been up to.
We decided to go on the bus, because I'd been driving quite a lot and also, so we could have a drink before we came home. We had a coffee in the toon and then we got the subway out to Kelvin Hall and walked along to Kelvingrove Art Gallery. Walked around the Dippy the Diplodocus exhibit, and although it was large, I'd imagined it was much bigger. Nicely balanced though, with a long neck and a long tail keeping Dippy in equilibrium.
Found the Leonardo exhibit and we were amazed with the condition of the drawings. True Mrs McQueen has been looking after them and she's been doing a good job, but the detail in the drawings was so clear and the paper was so clean I was impressed. Beautiful detail in the drawings, especially the studies of grasses and plants. The only thing I was disappointed in was the lack of mention of his tutor, Jim Belkevitz. Any child who was in my drawing class knows that Leonardo was a genius because he could draw a circle freehand, and the man who taught him that was Mr B.
Scamp wanted to listen to the organ recital and I wanted to go and see the Glasgow Boys paintings.  I saw the painting of Anna Pavlova which Fred gave JIC and Sim for a wedding present.  Theirs is a print of course, but the real thing is very impressive.  Also saw the Dali picture that poor Neil went to see, only to find out that it was on load to a New York gallery.
Got the bus back in to town and had lunch in Paesano with a glass of wine each to compensate for travelling by public transport. Then Scamp went to look in M&S and I went to wander through CassArt. Both of us came away empty handed.
Back home, I noticed that the overflow from the central heating boiler was dripping water. Checked the boiler and found that the pressure gauge was well into the high pressure red area. Phoned the gas board and after chatting on-line with someone somewhere in the world, but I guess India, I was told that a technician visit was booked for Saturday. Until then I was told best not to use the boiler. I couldn't remember how to decrease the pressure in the system, because there isn't a stopcock like there was in the old boiler, but then I found articles online that said to drain one of the highest radiators with the system switched off. I did that and the pointer came down into the middle green area, so we got some heat tonight after all, but that still doesn't explain why the pressure was so high when we got home, so it still need expert help.
PoD was a picture of a man with his granddaughter (?) photographing Dippy. I think he was more interested in the dinosaur than she was.
Tomorrow my coffee is being delivered, so one of us will have to stay at home for that.