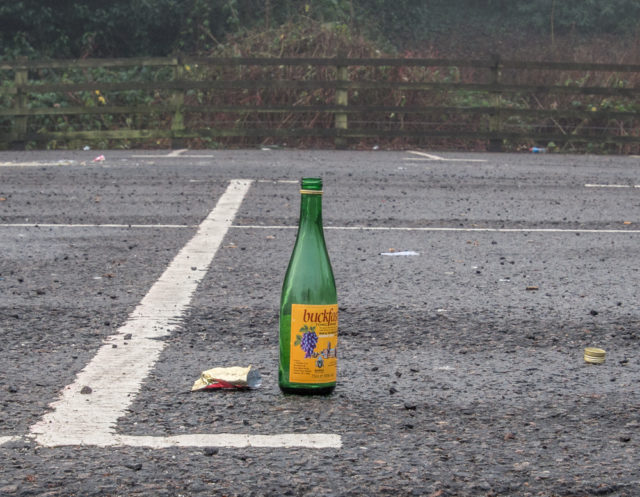 Today we were tempted to go to Dunfermline today, but a great grey cloud hanging over the central belt put an end to that idea.  Instead we opted for Stirling.  It was there or Glasgow and we'd been traipsing around Glasgow too much recently, so Stirling it was.
As usual we left the grey Cumbernauld Cloud behind us after a few miles on the M80, but then, just before the Stirling cut-off we drove into a bank of thick fog.  So thick that I had to use front and rear fog lights.  Stirling itself was clear and although the parking sign showed that all the multi-storey carparks were closed, our usual carpark was almost empty.  People just want to be as close as they can be to the shops.  A walk of a few hundred yards is too much for so many.  Saw a nice shot of a bottle of Buckfast and a packet of crisps sitting in the carpark.  The remains of someone's lunch perhaps?  Stirling, like I said, was clear of fog and in fact was sitting glowing under a blue sky.
I went to Waterstones to see if I could pick up any bargains and I did.  I found the Ruby Wax book 'Frazzled' for a fiver (a saving of £10).  Next stop Tiso whose Stirling shop was closing as the lease was up and the rent had been increased considerably.  I got myself a neat pair of Berghaus gloves half price.  I was looking for a pair of walking trainers and Scamp found the last pair of size 8s for just less than half price.  Last bargain of the day was a pair of shorts/longs trousers for £15.  Very pleased with myself.  I did think about going past the Apple Reseller to see if they had any bargains, but knew that would be asking too much.  Today seemed to be my day, Scamp didn't snag any bargains, I'm afraid.
A quick trip to Waitrose and we were heading back under the Cumbernauld Cloud.  No fog this time, thank goodness.
Waiting to see what the weather has in store before we make plans for tomorrow.