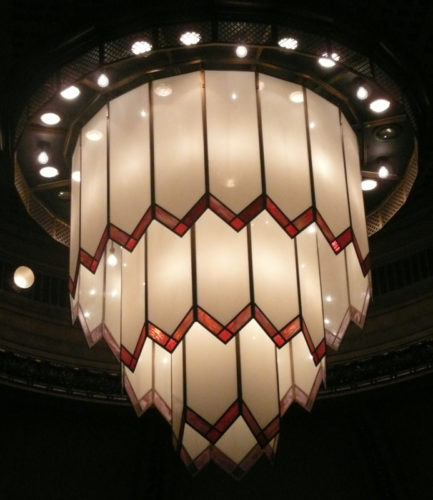 Where else would we get Culture, but Embra.  Today we were going to the ballet.
We set off in the mid morning, not as early as we usually leave on a Saturday, and intended walking down to get the bus to Croy, but one of our neighbours was taking his 'big car' out for a drive and offered us a lift.  Thank you Bobby.  Caught the train to Embra, but not before we had to move along the platform as we appeared to be blocking the entrance to a honeybee's nest in a drainage pipe in the wall. From Haymarket we did our usual walk up to get our morning coffee in Nero, then on up Lothian Road for a change and from there to the Grassmarket.  Saw a couple of interesting litter bins there, but you'll have to go to Flickr to see that photo.
To begin our cultural visit, we went to the National Museum of Scotland.  It's a long while since I've been there and there have been a great number of improvements.  When I was very wee, my dad took me to the museum when we were on our summer holidays at my Aunt Sarah's.  I think he enjoyed the visit as much as me.  There were always loads of glass cases with models in them and there was always a well thumbed button on the case.  If you pressed the button marvellous things happened.  Tiny little lights came on in rooms in the dioramas, wheels turned, signals changed.  In other words, they came alive.  The last time I was there nothing worked.  Today, I was transported back to that wee boy, there with his dad, pressing buttons, because everything was working again.  Even better, lots of other wee boys and girls were running around the place pressing buttons, pulling levers and watching things working.  Brilliant fun.
The main event today was Ballet at the Festival Theatre and that was our next stopping point.  We were there in plenty time, which was just as well, as there were hundreds of stairs to climb up to the top floor where our seats awaited us.  Possibly the most uncomfortable seats it's been my bum's displeasure to sit on, but these are the sacrifices we must make for our art.  The ballet, The Red Shoes was fascinating.  How those blokes did the jump with a pirouette in mid air, I'll never know.  The first half dragged on a bit too long for me (and my sore bum), but the second half flew past in a trice.  I'd go back again.  Best bit for me was when Scamp shouted "Oops!" just as the heroine was knocked down by a train!  Can't take her anywhere.
Today's PoD is of one of the Art Deco lights in the theatre.
Walked back down The Bridges and had a quick drink in a pub we passed, then down to the Grassmarket where Scamp and I agreed on an interesting looking Italian restaurant.  Had pizza bread to share as a starter, then Scamp had Mushroom Risotto and I had Spaghetti Arrabiata.  Her's was garlicky and creamy, mine was hot and spicy.  We'll be back.
Train back was very busy and then we got a taxi to the house.  A lovely day of culture.  Tomorrow?  Maybe Glasgow.