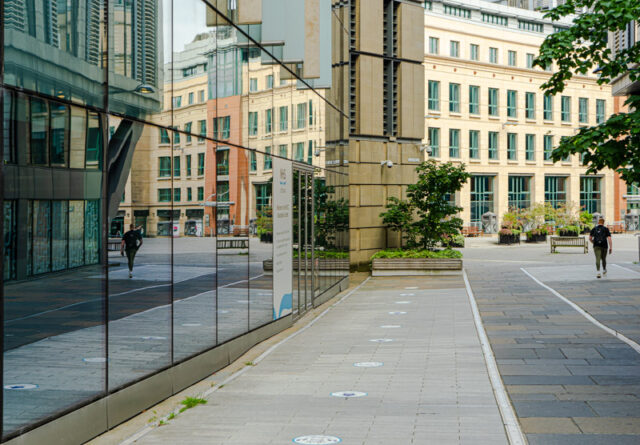 "… and it works." Reputed to be the words of Lincoln Austin Steffens after he had visited Russia in 1919 and had seen the new Soviet society in operation.
We did travel east today, but not as far as Russia. We went to Embra. We wanted to 'expand our boundaries', travel on public transport and live like 'ordinary' people. We survived the adventure. One of the places I wanted to see was the new St James Quarter with its roof that isn't really a roof and its multi-storey shopping extravaganza. But first we had to get off the train at Haymarket, walk through Ladyfield (where today's PoD came from) to Cafe Nero on Lothian Road, because that's what we used to do when the world was a different place. The last time we were in Embra was in January 2020, by the way!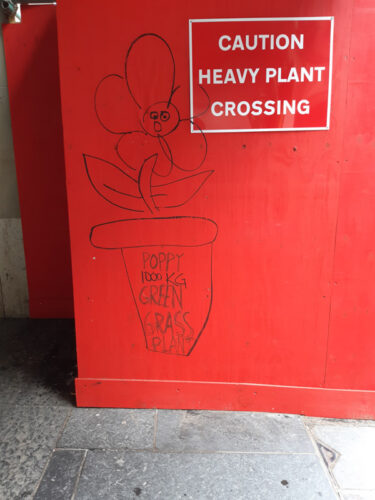 After the coffee and feeling suitably refreshed we walked round past the Usher hall and up on to the Grassmarket. Strange to see it without any stalls but with cars and buses driving past. Lots of tables set out where the stalls usually are, so the cafés and restaurants were in business. From there up the hill and round to cross the Royal Mile, then down The Mound (not the pile of turf beside Marble Arch, but the real Mound) to Princes Street Gardens. On that walk I got this shot of an old joke. Scrawled on a sign beside some scaffolding. It made me smile. Back at the stroll through Embra, we walked through the gardens and finally reached The St James Quarter which is quite impressive on a first viewing. But anything would be impressive compared to the old St James Centre which always looked like it was based on the design for Cumbernauld Town Centre. Yes, that bad!
We had a wander through one of the levels, marvelling at the amount of shops some with names we'd never seen before. Some with names we'd seen in foreign climes. Some we feel sure will last 6 months and then be replaced with shops that people will actually buy stuff from. I wanted to have a look at the 'toys' in JL, the new six storey JL. Why do they put the best stuff on the top level? I saw, what might be, my next camera. One version up from what I have now, but light years ahead in tech. I did say at the start "I have seen the future …". Scamp wandered round the lower levels but didn't buy. However she gave an ultimatum that she was looking for a new dress. I got the impression that the shortlist has already been written.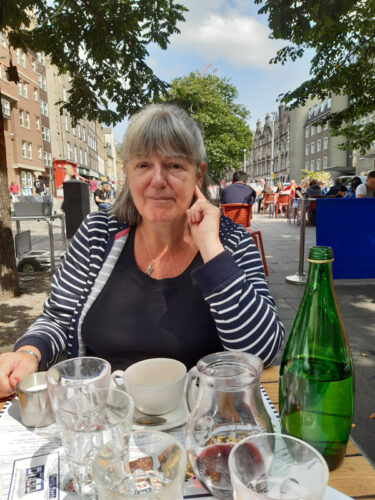 We exited the bit glitzy glass building and found our where we were. We were heading for Valvona & Corolla, only to find that it's not there any more. We were definitely in the right place, but it wasn't! We walk on along Rose Street to find our second choice, but it was closed. At least it was still there. Eventually we gave up and walked back up the Grassmarket and waited five minutes at Petit Paris for an outside table, because it was still a lovely, fairly warm day. Scamp had Salmon Rillette followed by fish of the day, Coley with a Basil Sauce served with mash. I had Countryside Terrine followed by Chicken Supreme with Forestière sauce, and Hazy, we hadn't brought the voucher, but we asked if it was still valid and the reply was "Of course! Bring it next time." Lesser restaurants would just have said no, but the trio of French blokes are better than that. We'll know for next time.
We retraced our steps from the morning and after almost exhausting ourselves climbing about a million steps to get up from the low Kings Stables Road to the Castle Terrace, then marching down Morrison Street we managed to catch the train home with a couple of minutes to spare.
A great day. It was almost like it was before the world turned upside down.
Two days of eating out. We need to get back to cooking and eating our own food tomorrow! We might even get some rain.