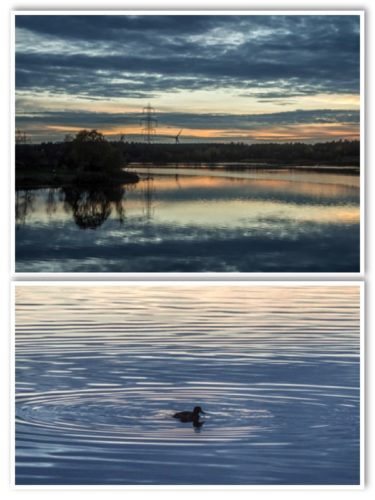 Some days there are loads of things to write about and some days, like today, are busy, but nothing all that interesting is happening.
Out this morning to meet Fred and Val for a coffee and a catch up.  We were all pressed for time for different reasons and had to rush more than normal.  Still a good sharing of minds 😉
From there I drove back home to pick up Scamp and drive to Falkirk.  We were running a bit behind time and perhaps that's why we didn't notice the 'Road Closed' sign.  We did notice the barrier across the road a mile or so further on.  The only way I was sure we could use was back a couple of miles at the roundabout and that's where we went.  We managed to get to the office just in time.  Thankfully this was good news again and to celebrate we went for a coffee in a new cafe just down the lane from Andrew's office.  The decor was good with guitars and mandolins hanging on all the walls, the coffee not so good.  Maybe it will improve with age.
Drove back and dropped Scamp off at the house where she had some work to do.  Drove up to Argos to get myself a 32Gb SD card to replace the 64Gb one I had bought from 7 Dayshop.  It was a good price for 64Gb, but the speed was dire.  Nice surprise when I went to pay for the 32Gb as it had 1/3rd off.  Glad I went there.  Managed to grab a couple of sunset shots at Broadwood Loch on the way home.
Back home had birds to feed because the greedy things have eaten all the peanuts already.  Hopefully this lot will last a little longer.  It's an expensive hobby feeding all these feathered friends.
Tomorrow?  Who knows.