Today we were up bright and early to face the day.  It was a bright sunny morning so we headed off into Glasgow to make the most of it.  Couldn't get parked in Cowcaddens 1, but I was sure we'd get into Cowcaddens 2.  Nope, there was someone sitting poaching by the entrance waiting for a space to become available.  Drove round to Concert Square, but it too was full.  There was nothing for it but to use the extortionate Buchanan Galleries where there were plenty of spaces – allegedly.  We eventually found some on level 5.  A pleasant surprise awaited us by the lifts.  Buchanan Galleries prices have gone down by  the  same amount that Concert Square's have gone up!  Right, coffee awaits us.
After coffee, we went our separate ways for a while.  We agreed a separation of an hour and a half and after checking that Scamp had her phone with her this time, I headed for Sausage Roll Street and Scamp went to Bucky Street.  These names have been changed to protect the innocent you realise.  Nowhere would really have a street called after a lunchtime non-fattening pastry or a bottle of tonic wine, would they?  I was going to get the book I'd been meant to collect on Sunday at Waterstones.  The much awaited sequel to The Long Way to a Small, Angry Planet by Becky Chambers.  With it safely in the bag, the next path lead to the Flat Iron Building.  Again, not its real name, but the shape of this red sandstone monolith always reminds me of the strange NY building.  Theirs may be taller, but ours has gravitas and curly bits.
After a few wrong turnings I arrived at the corner of Shamrock Street and New City Road where the Flat Iron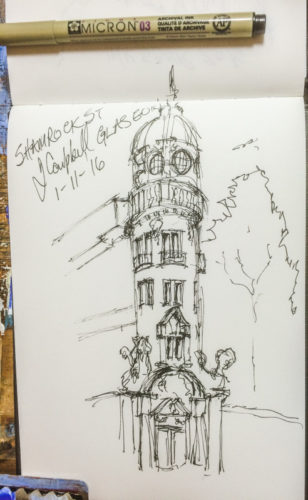 Building lives.  I chose a sketching position next to the PDSA buiding on Shamrock Street and started.  A woman passed me carrying a cat and with a Jack Russell on a lead, but she just looked through me as Glaswegians do when they have no clue what you're doing there.  She and the animals left me to my business and I left them to theirs.  After I'd been sketching for about ten minutes, a wee wummin came round the corner, by that I don't mean she was a diminutive lady.  A wee wummin in Glasgow can be a terrifying person capable of facing down Genghis Khan.  A nippy sweetie on the other hand would have torn Genghis apart to get into a fight.  This was just a wee wummin, a kind of apprentice nippy sweetie.  She and her daughter were also cradling a dog each and she was shouting.  Shouting at me.  "Here, are you giein' me a ticket?".  "Somebody in there said there was somebody oot here giein' folk parkin' tickets."  I turned to her and asked her if I looked like a traffic warden, then realised that I did.  Black jacket, bunnet, looks like he's writing something in a black book.  Yes, I did look like a traffic warden.  I told her, no I wasn't a warden and I hadn't seen anybody giving out tickets.  Just then a bloke arrived, also carrying a puppy.  [Thinks:  Does everybody here carry their dogs around with them?  Do they not want them to wear out their wee legs?]  This bloke is also shouting about somebody giving out parking tickets.  Then realisation dawned.  "Was it a wummin wi' a dug and a cat that told you?" I asked.  They agreed it was.  Then realisation dawned on the bloke first, then on the wee wummin a split second later.  "She dun that tae get ahead of us in the queue.  Aye, well she'll have me tae answer tae. You jist see if she disnae!" and with that, a magical thing happened. With her words hanging in the air she made the transformation from wee wummin to the fully fledged and fearsome nippy sweetie.
After that exchange I got down to work on the sketch proper, adding the curly bits and the architectural fancies.  I quite liked the finished article.  I called it Shamrock Street, but in retrospect and in homage to Botticelli, I should probably have called it "The Birth of the Nippy Sweetie".  I hope the woman's dog and cat are alright and that they found their own way home.
The rest of the day was tame by comparison with this ten minute street opera.  I walked down to Cowcaddens subway station and got a couple of shots of a grand tree by the underpass.  I got the subway to St Enoch's and bought a couple of sketch books to replace the rapidly filling Fabriano and some brush markers, then met Scamp and drove back home.  We stopped off at Milano for lunch as Scamp and her sister were going to a 'do' in Motherwell later.
There's been a wren hunting in the bushes in the garden for weeks, presumably for spiders and other insects and I've never been quick enough to catch it.  Today I did.  The smaller the bird, the quicker they move.
Off to meet Fred P tomorrow and then on to Falkirk which will be free from traffic.  Aye Right!