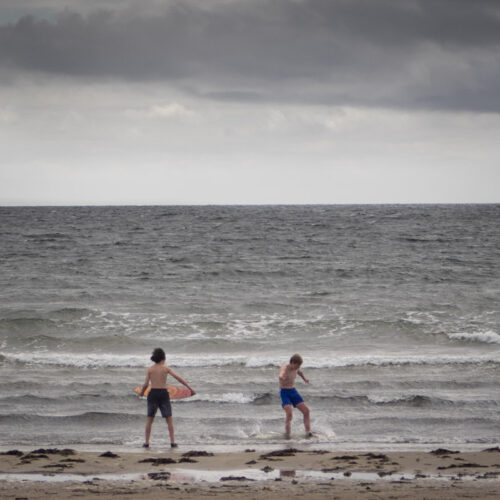 We were up and out early because the sun was shining. No time for coffee today, we were going to the seaside.
Drove down the M77 to Troon and parked near the harbour at the parking place where the crashing waves blow in from Arran and Ailsa Craig. It was a fairly heavy and grey sea out there, but not as bad as we've seen it. Still, as first Ailsa Craig, then Arran disappeared into the rain clouds, we decided it might be a good idea to wait a while before venturing out for a walk.
Once that shower passed, we did go out walking. Up and over the Ballast Bank, built in the 1800s to protect the new port, and partly constructed from ballast from merchant ships and partly from the dredging operations at the new port. It's always a lot breezier on the top with the prevailing wind coming straight off the sea. There's a lower level path too, but it's only really for one person at a time with very few passing places. On rough sea days it can be a bit wet and slippery. We chose the high road today.
Walked on along the esplanade and were both surprised at the number of folk stravaigin along the front. We walked on the sand about half way along the sand dunes and then turned and came back along the path. Climbing through the sand dunes we spotted a wee lizard sunning (?) itself on a patch of sand. I suppose it was quite sheltered there and would catch the occasional spot of sunshine.
Walked back to the car. Normally we'd have gone for a coffee at least and possibly a bite to eat, but we're still not totally comfortable with eating out in these early days of freedom.
Drove back home through Dundonald then on to a busier than normal M77. Busier than a weekday, that is. But as Scamp had remembered earlier, today was 'Glasgow Fair Monday'. It used to be a big local holiday, but even without the disruption caused by Covid-19, it's hardly remarked upon these days.
A few choices for PoD, but I chose the one of the two boys with their surfboards, splashing in the waves. They must have been freezing, because this was not Surfin' USA.
Two sketches going up on Instagram. One of Kilmuir Free Church, drawn from a Google Street View and one of my completed Monday Sudoku. If I get them posted, that will be us up to date.
No plans for tomorrow.