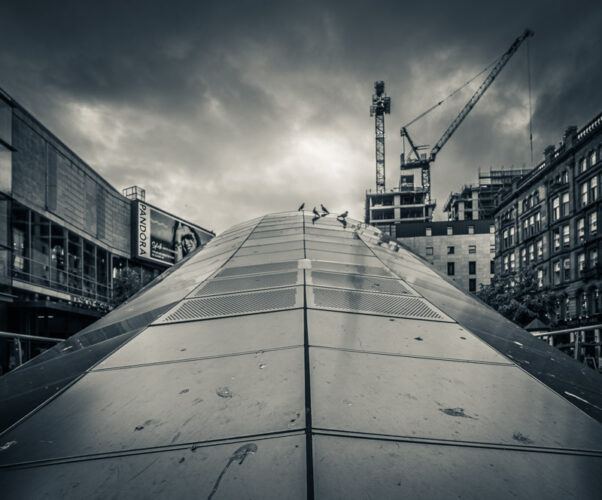 Glasgow, that is, not a Cartoon.
We were going to JL to look for towels. Well, Scamp wanted to buy some towels, but as the towels are on the same floor as the "Toys". I helped for a while before I went to see what goodies were available to purchase. There were lots of 'returns' and 'reductions', but I've seen the sort of thing that JL calls 'returns' and I've bought one or two, but almost immediately returned them myself. Some have obviously been dropped, some come in boxes that have been used as footballs in a playground but some are genuine bargains. None of the bargains were available today, but there was a nice Sony 6500 camera whose box was held together with half a roll of sellotape and a bit of duct tape. A snip at just under £1.5k! Really? You expect people to shell out real money for that? Thankfully Scamp led me away from these 'bargains'.
We walked down Bucky Street and from there to George Square where we watched two blokes on a part recumbent tandem, cycling round the square. It looked a bit strange because the bloke at the front was cycling like it was a recumbent and steering while the one on the back was cycling upright, like a normal bike. It all looked a bit Heath Robinson.
We walked down Queen Street to Cass Art where I wanted to get a couple of tubes of their own make watercolour paint. It's a lot cheaper than W&N and not too bad at all. With the paint bought we waked down and along to St Enoch's Square for coffee and a panini each for lunch. Outside I took some shots of the subway entrance which looks like part of a futuristic spaceship. It made PoD, which is a miracle as it's almost all out of focus. If you look closely at the pigeons on top of the domed shape, you will see they are not nearly in focus. The moral of the story is that if you want to fiddle with the settings on a complex camera, try to remind yourself of that when you go to take photos. Of course I didn't notice my error until we got home.
On the way home we stopped at Tiso for Scamp to have a look for a replacement weatherproof jacket since her old one is getting a bit tatty. We were both shocked by the limited range of sizes in the ladies jackets and also the price! I got the last pair of size 36 walking trousers. This is my second pair, I've already got a pair of lined trousers, this pair are unlined, 'summer' trousers.
Back home we had Bacon and Borlotti Beans and it was as good as it usually is. It did try to rain when we left Glasgow which, if it had continued would have washed some of the sticky sugar that drips on the cars from the trees outside the house. Unfortunately it stopped as quickly as it had come. It must have been one of those 'passing showers' the weather fairies talk about. We need real rain!
Tomorrow we are booked to do a return trip to Ravenscraig with Shona to get her second jag. She's offered to take us for a coffee afterwards. What a nice girl!